World news story
UK-India project seeks to revive Bengal silk
Silk is the centre focus of the Silk River project, part of the Reimagine India series supported by the Arts Council and British Council.
The aim of Silk River project is to renew focus on old trading links between Britain and Bengal through the use of silk from the Murshidibad district of West Bengal.
Project leader Ali Pretty has engaged artists from both countries, and people from ten communities along the Hooghli and Thames rivers to design and paint large scrolls using the silk. The ten scrolls of the communities from Murshidibad to Kolkata were paraded at the Murshidabad Heritage Festival, 150 miles north of Kolkata, during a cultural programme and boat race on the river over the weekend of 28-29 January.
British Deputy High Commissioner Kolkata, Bruce Bucknell attended the event to wish the project well, and celebrate the revival in the heritage of Bengal, from its architectural monuments to the crafts including use of local silk.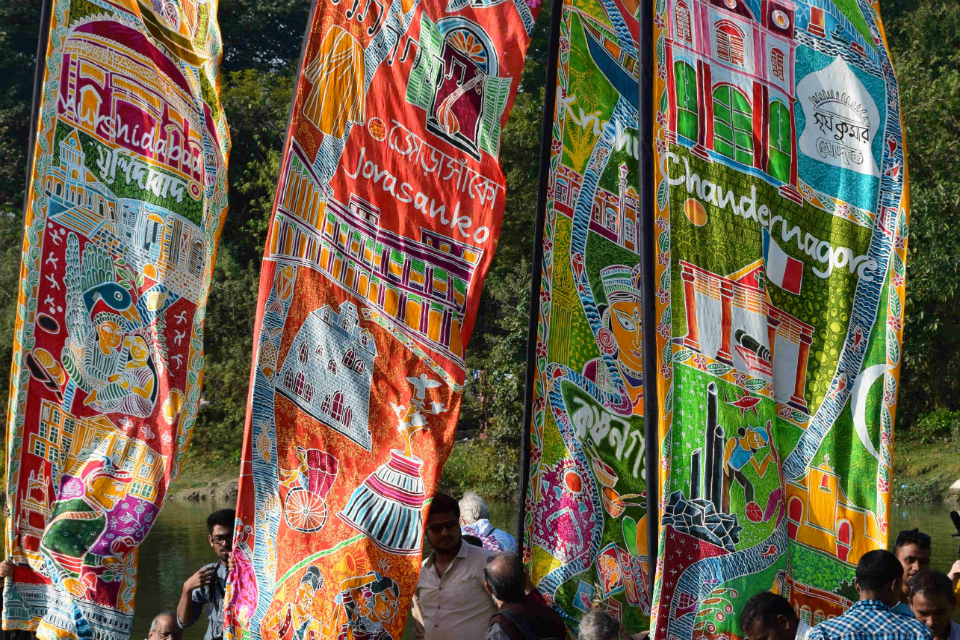 The next step of the project is the design of counterpart scrolls from the Thames, followed by their joint display in a series of heritage walks in each location along both rivers, first in Britain and culminating in West Bengal in December.
For media queries, please contact:
Stuart Adam
Director, Press and Communications
British High Commission,
Chanakyapuri, New Delhi 110021
Tel: 44192100; Fax: 24192411

Mail to: Deepti Soni
Follow us on Twitter, Facebook, Instagram, Flickr, Storify, Eventbrite, Blogs, Foursquare, Youtube Snapchat @UKinIndia, Persicope @UKinIndia
Published 30 January 2017