Britain allies with Africa for greater food security
Britain will improve food supply and farming across Africa to help pull 50 million people out of chronic poverty over the next 10 years, International Development Secretary Andrew Mitchell announced at an event today in Washington.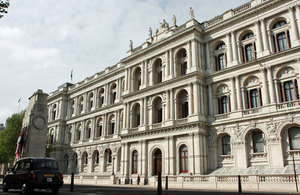 The UK joined G8 nations, African countries, aid agencies and 45 leading multinational and African companies in a new alliance to help millions of African farmers boost their productivity and help poor farmers produce more reliable crops and healthier livestock.
"It is shameful that one in three people in Africa go to bed desperately hungry every night," said Mr. Mitchell. "Hunger is directly linked to poverty, so farmers need investment and support if they are to grow more nutritious food and escape the threat of harvest failure.
"Governments cannot tackle this challenge alone. The skills, resources and financial expertise of leading private businesses will help transform African agriculture, giving poor farmers the chance to pull themselves out of poverty, hunger and malnutrition."
Britain's first contribution to the New Alliance for Food and Nutrition Security will include its first ever support to the World Bank's Global Agriculture and Food Security Programme (GAFSP) fund, helping it to expand agricultural investment in low-income countries.
The UK is already instrumental in tackling global hunger. By 2015, the UK's African Free Trade Initiative will cut border crossing times in Eastern and Southern Africa by a third. This will increase cross-border food trade in staples such as maize by 15 per cent, making food more readily available and helping farmers increase their profits.
The alliance, announced by President Barack Obama ahead of the G8 leaders' meeting, is expected to increase average agriculture sector growth rates by 1.5 per cent per year over 10 years across sub-Saharan Africa.
"Food security is a moral imperative, but it's also an economic imperative," President Obama said, addressing an audience at the 3rd Annual Symposium on Global Agriculture and Food Security in Washington, DC. "History teaches us that one of the most effective ways to pull people and entire nations out of poverty is to invest in their agriculture."
The New Alliance for Food and Nutrition Security builds on the previous international agreement made at L'Aquila in 2009 by stimulating growth in African agriculture by providing technical and financial support to help develop farming and agriculture. This will drive private investment and make it easier to invest responsibly in the food and agriculture sectors.
Seventy per cent of African people are engaged in agriculture, yet across Sub-Saharan Africa farmers are struggling to meet local and regional demands for food and only four per cent of arable land is irrigated. Improving farming methods, increasing irrigation and boosting trade links could have an immediate effect on food shortages, levels of chronic hunger and the incomes of farming families.
African leaders from Ghana, Ethiopia, Tanzania and Benin were invited to the food security conference, where they discussed ways to boost agricultural production across the continent. Other speakers included U.S. Secretary of State Hilary Clinton and musician and development advocate Bono.
Search the news archive
Published 18 May 2012