Press release
Bringing salmon back to South Yorkshire
New fish pass will allow fish to migrate further towards Sheffield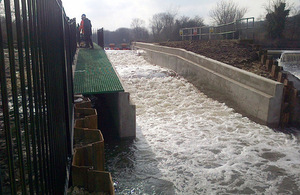 Salmon and sea trout could soon be returning further into South Yorkshire thanks to a major engineering project on the River Don.
The Environment Agency has built a £500,000 fish and eel pass at Sprotbrough Weir, near Doncaster, allowing fish to migrate upstream as far as Rotherham, and also into the River Dearne.
Salmon were once so common on the River Don that they provided an affordable meal and formed a staple part of the local diet.
But in the 18th Century a number of weirs were built along the river for industry or to regulate water levels for boats. These prevented salmon, lamprey and eels from migrating, and any coarse fish like barbel that are washed over a weir during high waters cannot return back upstream.
Pollution from industry during the 19th and 20th Centuries then made the river uninhabitable for most wildlife.
The Sprotbrough fish pass is part of a wider programme of work which will improve the river for coarse fish and eel and also return salmon to the centre of Sheffield. There are 14 further weirs between Sprotbrough and Sheffield, and five of these are already passable to fish.
Plans are underway with the Don Catchment Rivers Trust to adapt five weirs in the near future, and the Environment Agency is working with its partners to look at the options for the remaining structures.
The Sprotbrough project was funded by the Environment Agency, supported by income from rod licence fees, plus a significant contribution from Lafarge Tarmac through the Landfill Community Fund. The fish pass will be maintained by the Canal & River Trust, which owns the weir and has supported the delivery of the project, along with the Don Catchment Rivers Trust and the Don Gorge Community Group.
Nick Soames, project manager at the Environment Agency, said:
This is a significant step in getting salmon to Sheffield and restoring sustainable populations of coarse fish to the River Don.

The effects of industrial pollution and habitat loss have been reversed, and we are now also starting to restore habitats. Our rivers are the healthiest they have been for 20 years, and wildlife is now returning to many watercourses for the first time in decades.

It's timely that we can announce this as we approach World Fish Migration Day, on Saturday 24 May, that aims to highlight the work going on around the globe to help fish that migrate.
Jane Thomson, Enterprise Manager at the Canal & River Trust, said:
As owners of Sprotbrough Weir, the Trust are pleased to have worked with the Environment Agency, the local community and Lafarge Tarmac to facilitate a new fish pass which will be critical in the improving the river for wildlife and providing visitors with an added attraction in the Don Gorge.
Published 23 May 2014