News story
Bright ideas showcase the best of the British electronics industry
For the last two weeks UK designed and manufactured electronics and components have been displayed to highlight the expertise Britain has in…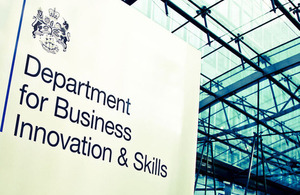 For the last two weeks UK designed and manufactured electronics and components have been displayed to highlight the expertise Britain has in this sector, and the contribution that electronics makes to the economy.
The exhibition was visited today by Business Minister Mark Prisk who met senior executives from the industry.
Business Minister Mark Prisk said:
"Electronics is involved in every part of the economy, from consumer goods to farming. It makes cars more reliable, aircraft safer and data movement faster.**
"There is massive potential for growth in the sector and the UK is uniquely placed in Europe to take full advantage of that. We have 40% of the European market in electronics system design, nearly a third of Europe's silicon design companies and we are the home to Europe's largest concentration of electronics systems design houses.
"With all this expertise already here in Britain, it's surprising that the public don't necessarily know about it. That's why we're running programmes like our Make it in Great Britain campaign to dispel the myth that we don't make anything in Britain anymore and inspire our young people to consider an exciting career in modern manufacturing."
Exhibits on display at the Department have included:
Dialight - is a leader in the field of energy efficient LED lighting for industrial and hazardous areas as well as transportation and infrastructure applications.
Freescale - a global leader in embedded processing solutions for the automotive, consumer, industrial and networking markets.
Tonejet - a break-through digital printing company targeted at commercial and industrial applications, particularly high volume markets.
AWS - specialises in manufacturing services for a range of different industries requiring high quality, flexibility and expertise in the assembly of PCB's, Cables, Sub-assemblies or complete equipment build.
Imagination Technologies Group plc - an international leader in the creation and licensing of semiconductor System-on-Chip Intellectual Property (SoC IP), and in the development and manufacture of connected audio and DAB digital radios and other innovative consumer products.
PhotonStar LED Group plc - a British designer and manufacturer of smart LED lighting solutions for the commercial and architectural markets. PhotonStar also provides LED lighting solutions for specialist applications such as film & television production lighting, UV curing and medical applications.
International Rectifier - a world leader in power management technology, including uninterruptible power supplies (UPS), for solar, industrial motor and welding applications.
Plastic Logic - develops products and devices to help individuals and businesses use information more effectively by utilizing its groundbreaking flexible displays.
ARM - comprehensive product portfolio offering includes 32-bit RISC microprocessors, graphics processors, enabling software, cell libraries, embedded memories, high-speed connectivity products, peripherals and development tools.
Briton EMS - formed in 1979 a leading contract electronics manufacturer who helps customers benefit from their decision to outsource by providing true business partnerships and taking responsibility for the manufacturing process. Products are manufactured across a range of sectors including medical, broadcast, transport, infrastructure and agriculture.
TDK-Lambda - Established in 1959 as Coutant Electronics, TDK-Lambda UK is now Britain's largest designer and manufacturer of both standard and configurable AC-DC and DC-DC power supplies. The company supplies AC-DC power supplies, DC-DC converters, Programmable (Laboratory) power supplies and EMC/EMI filters to the UK market.
CSR plc - The company specializes in Bluetooth, location, FM, Wi-Fi, audio, TV, video, and camera technologies.
ST Microelectronics -ST serves customers across the spectrum of electronics applications with innovative technology, design expertise and combination of intellectual property portfolio, strategic partnerships and manufacturing strength.
GAMBICA - the national organisation representing the interests of companies in the instrumentation, control, automation and laboratory technology industry in the UK.
NMI - the trade association representing the UK Semiconductor, Microelectronics and Electronic Systems Communities.
Intellect - the trade association which represents members in the UK technology industry. It is formed of 800 SME and multinational member companies.
Electronics, Photonics and Electrical Systems manufacturing employs more than 330,000 people in 14,000 UK businesses, with a £42 billion turnover. This amounts to 10% of UK manufacturing industry. UK electronics exports in 2010 totalled £22.5 billion.
The exhibition is one of a rolling programme of themed displays demonstrating excellence in British design, engineering and manufacturing.** **
The Government is committed to promoting UK manufacturing as it is critical to economic growth, with responsibility for 53 per cent of UK exports and 2.8 million jobs.
**Notes to editors
**
1. Images of Mark Prisk's tour of the exhibition are available on the BIS flickr page.
BIS's online newsroom contains the latest press notices, speeches, as well as video and images for download. It also features an up to date list of BIS press office contacts. See [http://www.bis.gov.uk/newsroom](http://www.bis.gov.uk/newsroom) for more information.
Notes to Editors
Contact Information
Name BIS Press Office Job Title
Division COI Phone
Fax
Mobile
Email NDS.BIS@coi.gsi.gov.uk
Name Nick Evans Job Title
Division Department for Business, Innovation and Skills Phone 020 7215 3496 Fax
Mobile
Published 14 December 2011