Press release
Bridge beam lifted into place as part of A1 Leeming to Barton improvements
The major road scheme to upgrade the A1 to motorway standard between Leeming and Barton will reach a significant milestone this week when 32 concrete beams are lifted into place as part of a new structure on this vitally important route.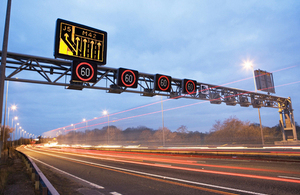 The bridge beam lift tomorrow and Thursday 3 and 4 December will be visible from the A1 at Catterick and will not cause any disruption to traffic using the A1.
Highways Agency project manager, Stuart Rae, said: "This is a significant milestone for the scheme and a complex piece of engineering. Over the two days we will be using a 300 tonne crane to lift and position 32 concrete beams weighing up to 57 tonnes each and measuring up to 24 metres long.
Although there will be no disruption to road users we are aware that the works' visibility from the road could be a distraction to some drivers. So we would ask them to take extra care and to concentrate on the road ahead during these works.
Once completed the A1 Leeming to Barton scheme will unlock growth and boost the economy by creating a continuous motorway-standard route between London and Newcastle (including the M1 and A1M). It will also improve journey times and increase safety.
When the scheme opens to traffic in 2016/17, journey times between Leeming and Barton are expected to be reduced by approximately 20 per cent, and over a sixty-year period, the improvements are predicted to save around 20 lives and prevent around 450 serious accidents. The work is also estimated to generate 750 jobs in the construction industry over three years.
General enquiries
Members of the public should contact the Highways Agency Information Line on 0300 123 5000.
Media enquiries
Journalists should contact the Highways Agency press office on 0844 693 1448 and use the menu to speak to the most appropriate press officer.
Published 2 December 2014