Bribery Act comes into force
Britain will play its full part in the international clampdown on corruption as the Bribery Act comes into force today.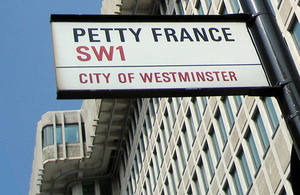 The Act will allow the country to tackle this serious obstacle to trade and development without placing additional burdens on business and legitimate enterprise.
The Bribery Act will:
Introduce a corporate offence of failure to prevent bribery by persons working on behalf of a business. A business can avoid conviction if it can show that it has adequate procedures in place to prevent bribery.
Make it a criminal offence to give, promise or offer a bribe and to request, agree to receive or accept a bribe either at home or abroad. The Act also covers bribery of a foreign public official.
Increase the maximum penalty for bribery from seven to 10 years imprisonment, with an unlimited fine.
Guidance on the type of procedures businesses can put in place to prevent bribery has been available since March, allowing businesses to familiarise themselves with the new legislation and ensure they are prepared.
Justice Secretary, Kenneth Clarke, said:
'A free, fair and competitive global market is vital to the growth of British industry. Bribery and corruption has a direct impact on the ability of honest businessmen and women to export and to make their living. By tackling bribery we believe we can improve business opportunities for enterprising citizens.
'The guidance that is already available should reassure companies - especially smaller businesses with limited resources. We will demonstrate that the prevention of bribery is commonsense and does not require unduly expensive or onerous procedures for legitimate businesses.'
The Justice Secretary also stressed that normal corporate hospitality will be largely unaffected by the new Act, which will reassure businesses hoping to make the most of the opportunities provided by the Olympics next year.
Vince Cable, Secretary of State for Business said:
'We have listened to the concerns from business and published guidance three months ago to help companies large and small prepare ahead of today's launch.
'As we focus on growth and rebalancing the economy it is vital that our companies can compete on a level playing field.  The new Act will boost the prospects of UK businesses and is an important step forward for ethical standards.'
The guidance has been published on the Ministry of Justice website along with easy-to-understand 'Quick-start' guidance for small business, allowing a three-month familiarisation period before the Act commences.
As well as advising on anti-bribery procedures the guidance includes practical case studies, including on hospitality, facilitation payments and joint ventures.
Notes to editors
The Bribery Act received Royal Assent on 8 April 2010.
Published 1 July 2011