Breakdown recovery Helmand-style
A major multinational exercise held at Camp Bastion has demonstrated how International Security Assistance Force combat vehicles are recovered in the event of breakdown, being bogged down or being disabled by enemy action in Afghanistan.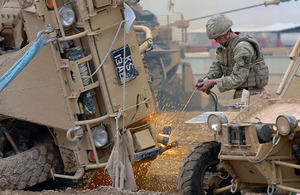 Hosted by the British Theatre Equipment Support Battalion, the high-profile interoperability exercise (IOX) was attended by UK, US, Danish, Estonian and Afghan forces.
The exercise was not only an opportunity to demonstrate current multinational procedures, but also to ensure compliance between the different nations.
Warrant Officer Tucker, who helped organise the event, said:
It was a very successful exercise, which reinforced the links between the various nations so that we are all working together to prove that we will be able to improve our rate of success in recovery operations across Helmand.
The IOX began with a small Springer vehicle racing from the bowels of a Chinook helicopter, manned by two British Army recovery mechanics.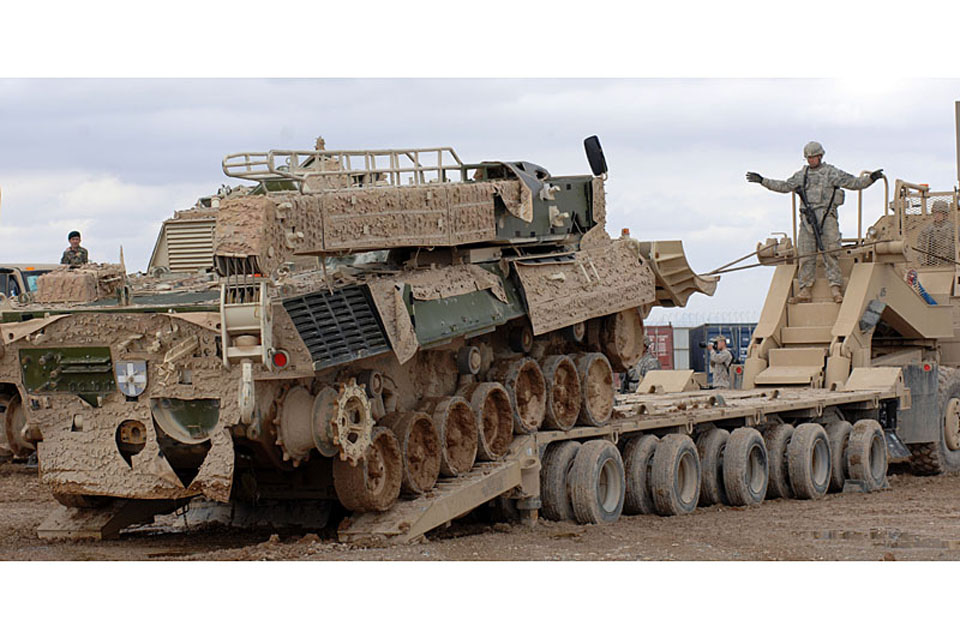 The Springer normally carries all the basic equipment to assist in the recovery of a vehicle. Its crew headed towards a Jackal patrol vehicle which was lying on its side. They attached two cables, and, in no time at all, the disabled vehicle was righted and a 'casualty' successfully extracted.
The various demonstrations which made up the IOX included a US Marine Corps M88 Hercules (Heavy Equipment Recovery Combat Utility Lift and Evacuation System) raised by a Danish Wisent 8x8 armoured logistics vehicle, and a Wisent being winched from deep mud and recovered onto a US Army heavy equipment trailer. The success of the latter demanded precision measurement with not a centimetre to spare. The Afghan National Army recovery crew demonstrated the use of their international wrecker to lift a vehicle onto their medium tactical vehicle.
Finally, a 26-tonne UK Support Vehicle (Recovery) was recovered from deep mud by the Danish Wisent and a US M88; the combination of both vehicles giving a joint pulling power of 200 tonnes.
See Related links to watch a British Forces News video report on the exercise.
Published 11 March 2011