World news story
Brazil to Co-Host Global 'Nutrition for Growth' event in London
UK and Brazil strengthen their high level partnership working together to encourage long-term solutions to global hunger and undernutrition.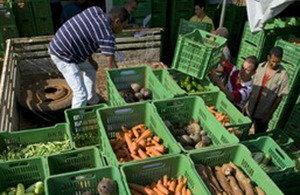 The UK and Brazil both believe that, despite several decades of effort, global hunger is still unacceptably high. Nearly one in eight people suffer from undernourishment, not getting enough of the vitamins and minerals they need to live healthy and productive lives. As well as the impact on health, undernourishment robs children of their potential performance, achievement and earnings. This is why the UK and Brazil have pledged to work together as global advocates on global hunger and undernutrition between the London 2012 and Rio 2016 Olympics.
The latest milestone in this partnership is "Nutrition for Growth", a major international event to be held in London on 8th June, co-hosted by Prime Minister David Cameron and Vice President of Brazil, Michel Temer, and the Children's Investment Fund Foundation [CIFF]. The event will bring together business leaders, scientists, governments and civil society to make the ambitious commitments needed to tackle hunger and malnutrition in developing countries, and bring in new champions to support the global movement.
This high level UK-Brazil partnership is underpinned by practical programme work in developing countries – particularly in Africa. This includes UK support for:
Purchase from Africa for Africans, which aims to boost food security in 5 African countries by sharing experience of the successful Brazilian model of local food purchases from family farmers to supply school meal programmes.
Agricultural Innovation Marketplace, a multi-partner initiative co-designed by DFID. This has already created over 30 joint agricultural research partnerships between Africa and Brazil, and is now also engaging expertise from the broader Latin American region. One example of the results produced is the development of drought-resistant and high protein cowpeas in Nigeria.
Brazil has successfully transformed its agriculture and radically reduced hunger, and many developing countries are keen to learn from this success. The UK is proud to be working with Brazil to help share its expertise.
Published 6 June 2013