News story
Brathay apprentice challenge winners in Westminster visit
Apprentices from UK Atomic Energy Authority met with John Howell OBE, MP, to be congratulated on winning apprentice team of the year 2016.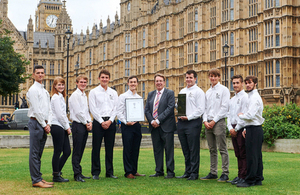 UK Atomic Energy Authority (UKAEA) were crowned the winners of the Brathay Apprentice Challenge in June following a testing five-month challenge that saw them compete against teams from the country's leading apprentice employers and training providers.
John Howell OBE, MP, Brathay Trust and the National Apprenticeship Service met with the apprentices on College Green to congratulate them on their efforts. The apprentices were then taken on a tour of the House of Commons.
The Brathay Apprentice Challenge is the search for the apprentice team of the year and supported by the National Apprenticeship Service. In 2016, the challenge teams visited nearly 400 schools, career fairs and youth groups to discuss apprenticeships and recruited over 400 new employers to offer apprenticeships as part of the Challenge. The apprentice teams have also reached out to their local communities and delivered 45 community projects to benefit young people.
The logistical and teambuilding finale held at Brathay Trust's headquarters tested the teams' individual and group strength, both mentally and physically, and developed their leadership, team building and communication skills.
UKAEA narrowly beat HMRC Digital Newcastle into second place and HSBC who finished third. Teams from Apprenticeships Norfolk Network, Hampshire County Council, HMRC Surge and Rapid Response Team, IBM and QinetiQ also competed in the national finals.
UKAEA Team leader and Electronic Engineering apprentice, David Godden, said:
It has been a privilege to be invited to meet with John Howell OBE, MP and come to Westminster today. We were ecstatic to have won the title of the apprentice team of the year and to have beaten the other 80 teams and 700 apprentices that entered the challenge.

The experience that the Brathay Apprentice Challenge has provided us with is one that will stay with us all forever, from volunteering with the Helen and Douglas House Hospice and taking part in a £35,000 fundraising drive, to recruiting employers and educating young people about apprenticeships.

We hope that winning the title will support our efforts to inspire young people and promote apprenticeships. Hard work, determination and self-confidence are key for success.
John Howell OBE, MP said:
I am delighted to have welcomed the team to Parliament and to have supported them throughout. They are absolutely brilliant and it was really inspiring that they won the challenge and are now the apprentice team of the year. I wish them luck for the future and look forward to UKAEA continuing their winning streak in the future years.
For more information on the annual Brathay Apprentice Challenge or to enter a team for 2017 please visit brathay.org.uk/challenge.
Published 7 September 2016