News story
Brathay apprentice challenge 2014: finalists announced
Deputy Prime Minister Nick Clegg has announced the finalists for the apprentice team of the year.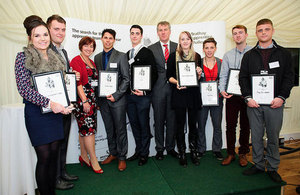 The 4 regional winners are:
northern region – Pepsico
central region – South Worcestershire College
London and South East region – e2v Technologies
southern region – QientiQ
The 4 additional finalists are:
Barrow Engineering Projects – Team Oxley Developments
British Airways
The Queen Elizabeth Hospital NHS Foundation
Virgin Media
During the last 2 months the teams have delivered nearly 60 community projects and conducted 310 school visits.
The finalists will continue their fundraising and awareness raising activities until early June when the challenge culminates in a series of team building, logistical and physical challenges at Brathay Trust's Windermere headquarters from 9 to 11 June.
Deputy Prime Minister Nick Clegg said: > Apprenticeships are vital to our country's future. They build our houses, design our aircraft, programme our computers and make our furniture, among the many other things they do. That is why it is so important that we celebrate the achievements of hard-working apprentices across the country. > The finalists of the Brathay apprentice challenge have shown they have the energy, enthusiasm and commitment to be the best they can be, but also to give back to build a better future for Britain. > It is important that we foster and harness that kind of dedication to secure their future and Britain's long term success: building a stronger economy and fairer society for this generation and the next.
The challenge, supported by the Agency's National Apprenticeship Service, focuses on helping to create an enhanced Apprenticeship for competitors, enabling them to developing skills like team building, leadership and communications – many of which are found in the top positions within business.
Published 11 April 2014