Press release
Brandon Lewis announces 100 community pubs are saved
Pubs Minister celebrates 100 pubs being listed as assets of community value, helping to safeguard their futures.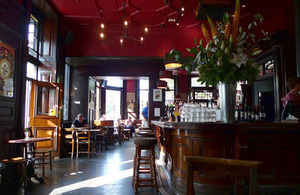 Community Pubs Minister Brandon Lewis raised a glass to announce that 100 community pubs have been listed as assets of community value helping to safeguard their futures.
The minister has called on more people to get behind their local pub and praised the Campaign for Real Ale's (CAMRA) initiative to #ListYourLocal which aims to get 300 pubs listed as assets of community value. Speaking at the Great British Beer festival this week the minister will talk about the importance of the local pub as part of our economic, social and cultural past, present and future.
The Community Right to Bid gives communities the opportunity to nominate an asset to be included on a list of assets of community value which delays the sale should a treasured local assets be put up for sale. This gives communities time to put in a takeover bid of their own. Previously, communities had no opportunity or time to gather resources to do this.
In April 2013, the Ivy House pub in Nunhead, South East London became the first ever Community Right to Bid-listed pub. In less than a year the Ivy House has gone from last orders to champagne celebrations and now the community has announced a community share issue scheme, where people can buy shares in the pub to help run it and keep it open in the long term.
Community Pubs Minister Brandon Lewis said:
We have known for hundreds of years just how valuable our locals are. Not just as a place to grab a pint but also to the economies and communities of those they serve and that is why we are doing everything we can to support and safeguard community pubs from closure.

CAMRA's campaign to List your local is doing a fabulous job raising awareness of our new Community Right to Bid and I am delighted that 100 loved locals have now been listed as assets of community value. Cheers to each and every one!
Chief Executive of CAMRA Mike Benner said:
CAMRA is delighted that the government has recognised the vital importance of pubs and empowered communities to protect them. By listing their local, communities are ensuring that if the pub is under threat in the future, there is a much-needed extra layer of protection which 'stops the clock' should it be put up for sale.
This government wants to help community pubs to thrive and has:
called time on the beer tax that has raised the cost of a pint by 42% since 2008 and put unnecessary pressure on community pubs and their loyal patrons
doubled small business rate relief from £6,000 to £12,000 until March 2014 and the Localism Act has made it easier for firms to claim small business rate relief
given generous National Insurance contribution relief for employers, wiping away the first £2,000 of their employer National Insurance contributions - up to 450,000 small businesses will no longer pay National Insurance contributions
reduced Corporation Tax to 20%, helping small and medium size pubs
launched a new phone line with the Plunkett Foundation giving communities access to information, expertise, and the tools they need to convert their local pub into a co-operative enterprise
provided £150,000 funding for 'Pub is the Hub' which supports community pubs to innovate and expand their services to offer more to the local community
communities can use the Community Right to Bid to 'pause' the sale of treasured local assets such as pubs, to give communities the time to develop a bid to buy it.
Photo credit: Ewan Munro, creative commons licensed.
Further information
Further information on the Community Right to Bid and how to list your local can be found on My Community Rights.
The minister also launched the 'Pubs are Great' campaign with The British Beer and Pub Association on 29 July 2013.
Find out more about the Great British Beer Festival
CAMRA's List your local campaign: first 100 pubs (MS Excel Spreadsheet, 42.5KB)
Published 12 August 2013