News story
Brakes are off as Dounreay reactor clean-up moves forward
Engineers at Dounreay have raided a scrap car and a kitchen can opener to help decommission one of the site's reactors.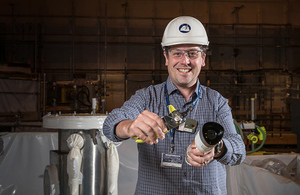 The handbrake from a vintage 1968 Ford Cortina has been used to help steer a camera, attached to wheels taken from can openers, into the Prototype Fast Reactor (PFR) where a detailed survey inside the plant was completed.
Physical space constraints and radiological conditions make it impossible for workers to access, meaning photographs play a key role in understanding how best to proceed with dismantling the redundant facility.
Chris Irwin, Senior Design Engineer, came up with the inventive approach:
"I was opening a can of beans at home and realised that the cutting wheel of a can opener was exactly what was needed to make the required diamond shaped wheel.
"I bought 4 of them and took the wheels off. The camera needed to be guided over obstacles within the reactor, so we realised the incremental nature of the clicks on a handbrake would give us the precise control that we needed."
This is the latest in a long line of novel approaches developed by the company's workforce with blu-tack and Cillit Bang among the everyday items that have previously been used to help deliver safe clean-up while ensuring that the best value is achieved on behalf of the site's owner, the Nuclear Decommissioning Authority.
Chris added:
"We are delivering one of the most challenging closure programmes in Europe, but this is another example where innovative, simple solutions prove critical in safely delivering complex projects."
PFR is one of three reactors at the former centre of fast reactor research. It was closed down in 1994, 20 years after it began producing power and is the process of being decommissioned.
Published 18 December 2017