Press release
Bradford retailers fined for rotten fruit and vegetables
HMI investigation sees Bradford shop owners fined for selling rotten, damaged and incorrectly labelled fruit.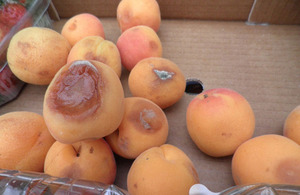 The owners of a Bradford shop have been fined for selling rotten, damaged and incorrectly labelled fruit following an investigation by the Horticultural Marketing Inspectorate (HMI).
Mohammad Haleem, age 36, and Mohammed Rahim, age 34, of Spencer Foods, in Spencer Road, admitted ten separate breaches of EU marketing standards for fresh horticultural produce when they appeared at Bradford Magistrates' Court on Friday (14/11).
The offences related to three separate displays of grapes, Golden Rose apples and apricots, which were affected by soiling, bruising and rot respectively, plus cherries, lychees, peaches, oranges, two varieties of onions and spinach which were displayed without the required country of origin. The grapes were also incorrectly labelled.
The offences were found during at an HMI inspection visit to the shop on 5 February this year.
Haleem and Rahim were each fined £1,200. They were also ordered to pay costs of £360 and a victims' surcharge of £240.
HMI is part of the Rural Payments Agency and Operations Director Paul Caldwell said:
This case highlights just part of the work RPA undertakes to protect consumers.

Fresh produce should be good quality and labelled accurately and the HMI work is very important in ensuring these standards are met.

Prosecution is a last resort and we always try to gain compliance with quality and labelling regulations through advice guidance and instruction.

In this particular case the prosecution followed a series of visits over 16 months. Between August 2012 and November 2013, the store failed ten successive visits from inspectors where advice and guidance was offered, but inspections found persistent poor quality and inadequate labelling.
Background
Spencer Foods is located at 2 Spencer Road, Bradford.
The HMI is part of the Rural Payments Agency (RPA). The Inspectorate is responsible for the enforcement of the EU marketing standards for fresh fruit, vegetables, salad crops, nuts and cultivated mushroom, throughout England and Wales, wherever fresh produce is grown, imported, exported, bought or sold.
HMI operates a transparent risk-based approach to enforcement and has the principle aim of gaining cooperation and compliance from the trade it regulates at all stages of the distribution chain. Prosecutions are only taken as a last resort when all other options of education and advice have been exhausted.
The Inspectorate follows the Hampton procedures of identifying and isolating any persistent and blatant offenders. The ultimate sanction of prosecution is then used as a clear deterrent to others who may look to break the EU marketing rules in order to obtain an advantage over other commercial competitors. Further information about the work of HMI can be found on GOV.UK.
RPA is an Executive Agency of the Department for Environment, Food and Rural Affairs (Defra), providing a range of key services in support of the department's objectives, including making rural payments, carrying out rural inspections, and livestock tracing.
Published 20 November 2014