World news story
Boris Johnson's visit to Argentina
The UK Foreign Secretary met President Macri and Foreign Minister Faurie and talked of a new positive and exciting phase in bilateral relations.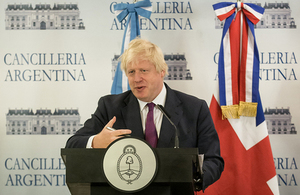 The UK Foreign Secretary, Boris Johnson, ended his three-day visit to Argentina and left for Chile to start the third leg of his Latin American tour. While in Buenos Aires, he held meetings with President Mauricio Macri and Foreign Minister Jorge Faurie, with whom he discussed different aspects of the bilateral relationship.
During a press conference at Palacio San Martin, headquarters of Argentina's Ministry of Foreign Affairs, the Foreign Secretary said:
We are building a partnership in security, tech, cyber, all sorts of areas where we are going to work together.

There is a synchronicity now in what Argentina and the UK are doing. Because Argentina is now engaged in what is called 'intelligent reinsertion' into the wider world and the UK - in our own way - are engaged in the same process. We are not becoming less European, certainly not. We will be able to do even more trades with our European friends. We will be more global and more engaged with the rest of the world than ever before. Clearly, Argentina provides a wonderful opportunity for us.
Speaking about the historic links between both countries, he said:
This is a relationship of great historical depth. You cannot come to Buenos Aires and not be impressed by the places of that relationship and that friendship. I think it is now going forward to a new stage in a way that is very positive, very exciting.
During his stay in Buenos Aires, the Foreign Secretary was involved in a number of activities, including the meeting of G20 Foreign Affairs Ministers, in the margins of which he held several bilateral meetings with representatives of different Member States. He also laid a floral wreath at the Plaza San Martin memorial in honour of all those fallen in the 1982 conflict, visited the Torre Monumental (also known as Tower of the English) together with members of the Argentine-British community, and attended a reception at British Ambassador Mark Kent's Residence, where he had the opportunity to interact with a large number of Argentine political, social and business leaders.
In addition, the Foreign Secretary and Argentina's Security Minister, Patricia Bullrich, signed a co-operation agreement, in line with the spirit of the Joint Communiqué of September 2016. The agreement focuses on sharing good practice and training activities.
Published 23 May 2018
Last updated 23 May 2018
+ show all updates
Added translation
Added translation