News story
Border security tightened to halt terrorists and protect vulnerable individuals
Tough new powers to bolster national security set to be introduced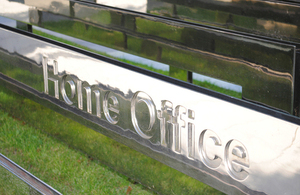 Individuals suspected of posing a terrorism-related threat may be prevented from travelling to or from the UK under new powers in the Counter-Terrorism and Security Act 2015.
Under measures debated and agreed by the House of Commons yesterday (Tuesday 10 March), those subject to Terrorism Prevention and Investigation Measures (TPIMs), or whose passports have been seized under new regulations enshrined in the Counter-Terrorism and Security Act, could be placed on a 'no fly' list to prevent them from leaving the UK.
There are also new restrictions on those travelling into the UK as part of a package of legislation to mitigate the threat of terrorist acts at home or abroad.
Primarily, but not exclusively, targeting air travel, the changes include:
extending the scope of the existing Authority to Carry 'no fly' scheme to cover individuals who pose a terrorist or terrorism-related threat and are seeking to leave the UK;
requiring carriers to use passenger data systems capable of receiving and acting upon instructions to offload or screen any passenger;
establishing sanctions regimes to impose civil penalties on carriers which fail to supply information about passengers or crew when required; neglect to offload or screen passengers when instructed; or breach the 'no fly' scheme.
Strong action to keep us safe
Immigration and Security Minister James Brokenshire said:
We have a fundamental duty as a government to ensure that the people who work to keep us safe have the powers they need to do so.

This important legislation will disrupt the ability of people to travel abroad to fight and then return. It will also enhance our ability to monitor and control those who pose a threat.

We have always been clear that we will take the strongest possible action against those who travel to Syria and come back to the UK with the intention of doing harm — both through our existing powers and by toughening them even further.
All the measures are expected to come into force early next month, subject to approval in the Lords.
In addition, the Government remains on track to meet its commitment to introduce exit checks by April.
More passenger data is already being processed than under any previous government, with Advance Passenger Information being processed for 96 per cent of air passengers travelling to and from the UK.
Published 11 March 2015