News story
Boost the business in you
A competition to boost the prospects of two businesses by providing a support package including mentoring advice, and £15,000 worth of free advertising with the Guardian has been launched.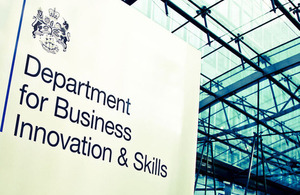 The competition is part of the Business in You campaign.
The joint campaign between Government and the private sector is designed to inspire entrepreneurs to start or grow their business throughout 2012.
Business and Enterprise Minister Mark Prisk said:
"Having run my own business I know the difficulties that entrepreneurs can face as they look to establish themselves and then grow.
"This competition is a fantastic opportunity to get free access to some of the UK's most successful entrepreneurs for mentoring as well as some great advertising opportunities.
"We recognise that small and medium sized enterprises (SMEs) are key to helping the UK economy grow. Business in You is a great way for entrepreneurs to find out how to access the support and advice that is already out there that can make their enterprise a success."
The partnership also features adverts produced by Channel 4, which show real-life case studies of successful small businesses designed to inspire new start-ups and help existing ones to grow. The adverts air today through to early June across Channel 4 channels, including Film4 and More4.
Links
Published 26 April 2012