News story
Boost for UK manufacturing supply chains
Government pledges £80 million pound investment, creating and protecting thousands of jobs.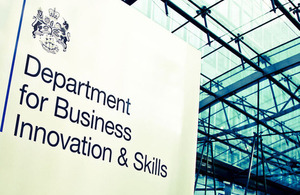 26 Nov 2012
---
---
More than 2,160 jobs will be created or protected through the government's Advanced Manufacturing Supply Chain Initiative (AMSCI).
The government has offered approximately £30m while the remaining £50m has been provided by private companies.
AMSCI, which announced its first round of £125m investment in March this year, gave funding to 11 manufacturing supply chain projects in the UK across the automotive, aerospace and chemical sectors - key areas of the government's Industrial Strategy.
Business Secretary Vince Cable said:
"Over half the UK's exports and almost three quarters of our business research and development activity is in manufacturing, so it's vital that we create the right conditions to encourage growth in the industry.
"The successful applications in AMSCI Round 1 represent a high quality of projects that bring together businesses and forge new partnerships across various supply chains that will strengthen our presence in Europe and the world.
"Through this initiative Government and industry can work together to help UK supply chains become more globally competitive, and plug the gaps that act as barriers to efficiency and expansion."
Examples of winning Round 1 projects include an advanced manufacturing proving factory of new low carbon technologies in Yorkshire and the surrounding areas, a West Midlands automotive supplier and a next generation bio-process manufacturing capability in the Tees Valley.
AMSCI is part funded by the Government's Regional Growth Fund. It is delivered in partnership with the Technology Strategy Board and Birmingham City Council as the accountable authority, on behalf of BIS.
Leader of Birmingham City Council, Sir Albert Bore, said:
"Working in this new partnership has been ground-breaking.
"We are making use of new legislation which gives local authorities the powers for the first time to operate outside their region at a national and even an international level. We hope this will be a model BIS and central government will use again."
Links
Published 26 November 2012