News story
Boost for UK creative industries as global brand leaders meet in London
Investments worth around £15 million were outlined today at a global business summit in London, while a UK firm announced that it had won two…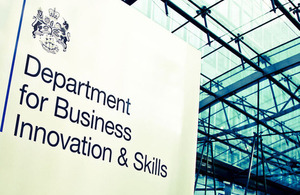 Investments worth around £15 million were outlined today at a global business summit in London, while a UK firm announced that it had won two contracts in Malaysia to design projects with a construction value of more than 300 million.
Speakers including Sir Jonathan Ive, Senior Vice President of Industrial Design for Apple Inc., Joanna Shields, Managing Director of Facebook for Europe, and Nicole Mendelson, Executive Chairman of Karmarama, will outline the contribution of creativity to business success, provide insights into the latest trends and provide powerful case studies illustrating strategies for growth. One-to-one business meetings and a gala reception will offer networking opportunities for hundreds of delegates from UK and overseas firms.
The summit, one of 18 being organised by UK Trade & Investment during the Olympic and Paralympic Games to boost British industry, will help to build partnerships between UK firms and international businesses in advertising, the media, design and architecture.
Culture Secretary Jeremy Hunt will host an evening reception at the Royal Academy of Arts, attended by HRH the Duchess of Cambridge.
Jeremy Hunt said:
"The creative industries are an integral part of the UK's economic success and future growth. We have one of the most innovative and successful advertising industries in the world as well as a strong and vibrant media sector.
"In addition to this, the Olympics will leave no-one in any doubt about the incredible strength of our design and architecture industries. The venues we have built to host the Games stand as testament to the UK's talent and our ability to turn vision into reality."
Other speakers at the British Business Embassy in Lancaster House will include Christopher Bailey, Chief Creative Officer of Burberry, Pritzker Prize-winning architect Lord Rogers, Moray MacLennan, Worldwide CEO of M&C Saatchi, and Paul Priestman, Co-Founder of Priestman Goode.
Also speaking will be Sir Martin Sorrell. Chief Executive of WPP, Sir John Hegerty, Worldwide Creative Director of BBH, and Thomas Heatherwick, who designed the British Pavilion at Shanghai Expo and the new London bus, and whose extruded furniture is on display at Lancaster House.
The UK has the largest creative industries sector in Europe, which directly and indirectly employs 1.5 million people and generates exports worth £8.9 billion a year.
International business outlined today includes:
Aquarius Investments, a Hong Kong-based commercial philanthropic enterprise, has announced plans to convert a Victorian building in Islington, London into 'The Halcyon'. This exciting, iconic centre is intended to showcase the best of British food, beverage, retail, art, design, music and entrepreneurial spirit. 'The Halcyon' will also support talented British individuals, products and companies that can not afford high street shop rentals, including through apprenticeship schemes. The investment will be in the region of £12m and will generate up to 80 jobs.
Benoy, the British architecture and design firm with projects in 50 countries across Europe, the Middle East and Asia, has announced it has won two new contracts in Malaysia, where it has also just opened an office in Kuala Lumpur (KL). Benoy will design the new 'KL Metropolis', a major retail hub, with Phase 1 scheduled to commence later this year, with expected construction costs of about £195 million. It will also deliver a masterplan for the first transit-orientated development in central Subang Jaya: a mix of retail, hotel, service apartments and office suites within the transport infrastructure, with an estimated construction cost of over £120 million. These announcements come as Hysan Place, a major retail and leisure development for which Benoy provided the retail planning and podium interior design, opens in Hong Kong (10 August)
SRI GROUP (Socially Responsible Investment) is moving its world headquarters from Italy to London. SRI has a capital markets advisory arm specialising in socially responsible investment, and a business consultancy working with both traditional corporates and not-for-profit organisations. Its new UK holding company will be called SRI Global. Up to 20 London-based jobs are expected to be established within the first year. Its capital investment of approximately £3m is expected to more than double over the next couple of years.
**Notes to editors
**1. Creative industries factfile:
British architects have designed some of the most exciting buildings in the world, with Dame Zaha Hadid, Lord Rogers and Lord Foster among the British architects who have won the prestigious Pritzker Prize.
The global advertising market is currently worth $375 billion and is forecast to rise 4.8% this year, Warc's International Ad Forecast says.
The UK advertising industry is worth £15.6 billion a year and over two-thirds of advertising agencies have their European headquarters in London.
World-leading names located in London are Saatchi & Saatchi, Ogilvy & Mather, Leo Burnett, Lowe, BBH, Mother, M&C Saatchi, WCRS and TBWA.
The UK design industry has key strengths in branding and communications; product design; building and interior designs; multimedia; web and games design. The UK exports more than £100 million in services each year.
UK Trade & Investment helped 2,700 firms in the creative industries sector in 2011.
On average, firms helped by UKTI, 90% of which are small and medium-sized, go on to win additional sales of £100,000 within 18 months.
The programme for all British Business Embassy events is at www.ukti.gov.uk. Watch all British Business Embassy sessions live http://www.youtube.com/user/UKTIWeb. You can also follow events live on Twitter @BritBizClub and join the conversation using hashtag #BritBizEmbassy."

The Government's economic policy objective is to achieve 'strong, sustainable and balanced growth that is more evenly shared across the country and between industries.' It set four ambitions in the 'Plan for Growth' (PDF 1.7MB), published at Budget 2011:
To create the most competitive tax system in the G20

To make the UK the best place in Europe to start, finance and grow a business

To encourage investment and exports as a route to a more balanced economy

To create a more educated workforce that is the most flexible in Europe.
Work is underway across Government to achieve these ambitions, including progress on more than 250 measures as part of the Growth Review. Developing an Industrial Strategy gives new impetus to this work by providing businesses, investors and the public with more clarity about the long-term direction in which the Government wants the economy to travel.
UK Trade & Investment (UKTI) is the Government Department that helps UK-based companies succeed in the global economy. We also help overseas companies bring their high quality investment to the UK's economy - acknowledged as Europe's best place from which to succeed in global business. UKTI offers expertise and contacts through its extensive network of specialists in the UK, and in British embassies and other diplomatic offices around the world. We provide companies with the tools they require to be competitive on the world stage. For more information on UKTI, visit www.ukti.gov.uk or visit the online newsroom at www.ukti.gov.uk/media.
Notes to Editors
Contact Information
Name BIS Press Office Job Title
Division Department for Business, Innovation & Skills Phone
Fax
Mobile
Email bispress.releases@bis.gsi.gov.uk
Name Oliver Fry Job Title
Division Department for Business, Innovation & Skills Phone 020 7215 5965 Fax
Mobile
Published 30 July 2012