Bonnie Greer on London as a 'hub city' representing all corners of the world
In a Foreign Office film launched today, playwright, novelist and commentator Bonnie Greer talks about uncovering her true heritage at the British Museum.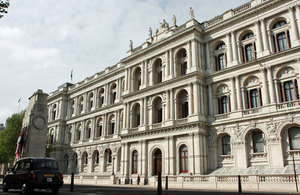 The film is one of the 'See Britain through my eyes' series featuring individuals from at home and abroad talking about their experiences of modern Britain in the run up to the London 2012 Olympic and Paralympic Games. Bonnie Greer's film is being released to coincide with the HowTheLightGetsIn 2011 festival in Hay on Wye, an annual philosophy and music festival where she will be hosting three events. Watch Bonnie's short film below.
In the film, Bonnie reminisces about her first impressions of the British Museum during her childhood years when she discovered it through photographs in an encyclopaedia her father purchased. She says it's hard to imagine that years later she would be on the board of trustees and then promoted to Deputy Chair at the museum. She draws inspiration from the institution as it has helped her to discover her own heritage through the range of artefacts on display. Bonnie refers to London as a "hub city, where so many colours, nations and languages are represented" and says how fitting it is that the British Museum sits in the middle of this.
As an African-American who wrote her first play at just nine years of age, Bonnie made the UK her home after visiting as part of a production at the Edinburgh Festival in 1986. She studied theatre in Chicago and then at the Actors Studio in New York. Her colourful career includes writing various high profile plays and novels, acting as Deputy Chair at the British Museum - and she is a much sought after social commentator. Her work has often focussed on women and ethnic minority issues; which she feels passionately about. Her repertoire is broad, ranging from radio plays for the BBC to West End musicals such as 'Solid' and 'Marilyn and Ella.'
Bonnie's contribution to theatre has been recognised through accolades such as the 'Verity Bargate Award' for 'Best New Play.' As an occasional writer for The Guardian and New Statesman and a former critic for Time Out magazine, her expertise and experience in theatre is respected throughout the arts world. She regularly acts as a social commentator on culture and the arts and has also appeared as a panellist on the BBC's Newsnight Review.
More recently, Bonnie wrote 'Obama Music,' a memoir detailing her own experiences of growing up in Chicago, drawing on the history and politics and the progress which has led to an African American as president of the US.
Published 26 May 2011