World news story
'Bond' Supercar stirs guests at Ambassador's residence
Aston Martin showcased its latest successor to James Bond's legendary car in Russia in the British Ambassador's Moscow Residence.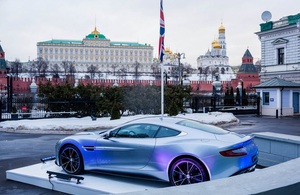 The new Aston Martin Vanquish supercar made its appearance at a star-spangled reception hosted by Ambassador Tim Barrow who said: "Aston Martin is an internationally famous British brand. To remind you, James Bond drove the legendary DB5 model. Aston Martin is also therefore a great example of high quality, reliability, historical heritage and innovation."
2013 is an important milestone for Aston Martin - the Company is celebrating its centenary, a second century of its history and marked the occasion by launching a new version of its famous top-of-the-range Vanquish.
Aston Martin Lagonda Ltd. has produced its legendary sports cars since 1914 with its headquarters and assembly plant in the UK at Gaydon, Warwickshire. In Russia it is represented by Aston Martin Moscow, which was established at the end of 2006 and started selling the famous British marque in Russia in March, 2007.
Chief designer Marek Raikman said: "Design of the new Vanquish is linked to Aston Martin's proud heritage and a bright future. With the use of carbon fibre today we have greater freedom in creating new designs." Among the guests at the event were Managing Partner of "BUREVESTNIK GROUP" Andrey Boiko, Commercial Director of Villagio Estate Pavel Treivas,Modern Art Painter artist Daniil Fedorov, actress Yekaterina Drobysh, Theater Director Andrey Zhitinkin, Accessories Designer Violetta Litvinova, Miss Earth 2012 Natalia Pereverzeva and others.
Published 24 March 2013