World news story
Bond movie premiere with high-level contacts in Santiago
The Embassy held the premiere of Spectre on Wednesday 4 November, the day before official release in Chile.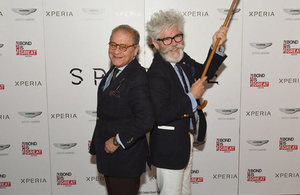 Over 300 high-level contacts from the business, cultural and creative industries attended a networking reception and Spectre´s film premiere organised by 4 Bond partners and Andes Films, the official representative of Sony Pictures in Chile. Other partners were Aston Martin, Sony Xperia and Omega. The event was held at the Premium Area of Cine Hoyts of Mall Parque Arauco, a luxury shopping centre located in the high end of Santiago, the capital.
The Embassy's invitees were mostly from the business community and representatives of the Chilean government, with some very important public figures coming from the arts and cultural worlds.
To promote the film, BE Santiago worked in partnership with Andes Films to place Bond is GREAT adverts on public places of a high-level area of Santiago, near the Embassy. This action lasted 3 weeks.
Further information
For more information about the events and activities of the British Embassy in Santiago, follow us on:
Published 7 December 2015