Bomb disposal troops receive Afghanistan campaign medals
The Task Force was drawn from 29 contributing units from all three Services, and from four nations - the UK, Denmark, Estonia and the United…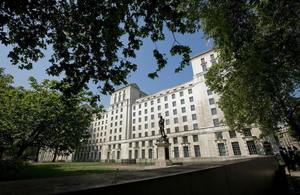 The Task Force was drawn from 29 contributing units from all three Services, and from four nations - the UK, Denmark, Estonia and the United States.
The majority of the soldiers on parade were from 39 Engineer Regiment, which is based at Waterbeach Barracks, and 33 Engineer Regiment (EOD), which is based a short distance away in Wimbish.
During Operation HERRICK 15, between October 2011 and April 2012, the Task Force was at the forefront of the fight against deadly improvised explosive devices (IEDs) in Helmand province, southern Afghanistan.
Working in teams, the Task Force provides three main capabilities - high risk search, IED disposal and conventional munitions disposal - and is responsible for finding and disposing of all IEDs and explosive ordnance within Helmand.
Across the province, IEDs continue to pose the most prevalent and indiscriminate threat to life and limb and countering this demands the highest standards of professionalism, dedication and skill.
Commanding Officer Lieutenant Colonel Jason Rhodes said:
Actively searching for and then walking towards an IED was a team effort and I was humbled by the daily acts of bravery shown by each and every individual; the searches, dog handlers … and the EOD teams.
During their tour the Task Force continued to train and develop the Afghan bomb disposal operators. Six teams are now operating independently of ISAF assistance across central Helmand, and in support of fellow Afghan soldiers and police officers.
Addressing the troops, the Inspecting Officer, Major General Shaun Burley, General Officer Commanding Theatre, said they had saved lives and how 'extraordinarily proud' he was of a truly 'special group of people'.
Published 1 May 2012