World news story
Bolivian universities seek to encourage climate change research.
Experts and representatives from local universities discussed the issue during a seminar supported by the British Embassy.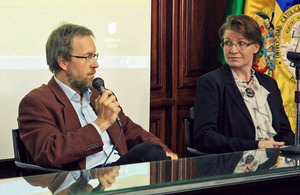 The seminar "Universidades hacen frente al cambio climático" (Universities face climate change) was held on September 12th and was organised by the Institute of Socio-Economic Research (ICT) Universidad Católica Boliviana (UCB) San Pablo and PRODENA. It was supported by the British Embassy in Bolivia, the Bolivian Institute of Mountains, Reacción Climatica and Iniciativa Acceso.
The purpose was to create a space for climate change specialists and participants to discuss the implications of climate change in Bolivia and the role universities can play in it. They discussed the importance of promoting scientific research and raising awareness on climate change in order to strengthen projects that seek solutions for global warming.
In his opening speech, British Ambassador to Bolivia, Ross Denny, referred to the importance of climate change research, in order to promote a better understanding of future scenarios that we face. "The scientific world has been and continues to be the foundation on which we are called to act".
"For many people climate change is simply a political issue in which financial funds are negotiated. For others is about conflicts of power. For others it represents the difference between having a good harvest or a poor one; and for the less fortunate, it can mean the difference between life and death", said Denny.
Dirk Hoffmann, director of the Bolivian Mountain Institute, said it is a fact that the world is warming. He said the attempt to reduce emissions of greenhouse gases by 80% to keep global warming to only a 2 degree rise had failed, because 14% more gas was produced than it should be by 2020.
"At the end of this century, the temperatures will rise about 4 degrees Celsius. This change means that the atmosphere will require more water, and more high altitude areas will be the most affected" said the expert.
Magali Garcia, specialist in Andean farming areas of the Faculty of Agronomy of the Universidad Mayor de San Andrés (UMSA), said that the inter-Andean valleys would be most affected and most vulnerable to droughts. A modelling study on biodiversity in Bolivia made by Lykke E. Andersen estimates that, by 2050, the Chaco and Chiquitanía would suffer more droughts than other regions, and the country would lose more than 54% of its biodiversity by 2100.
These climatic variations were compared with García's results, adding that Quinoa production suffered from the late rains and the heat gain. Because climate change has a lasting impact, the adaptability, migration, and other factors are affecting the ecosystem and agricultural production. Experts suggested empirical studies be carried out and updated, in order to prevent the predicted outcomes.
At the end of seminar, participants reiterated the importance of promoting scientific research and raising awareness that the universities carry out on climate change and also emphasised the importance of interdisciplinary research, which is necessary for better coordination between colleges and universities.
Published 26 September 2013