News story
Bold action to open up London's equity markets to high-growth companies
Proposals will include a planned new route to the UK IPO market for high-growth companies, which is likely to feature reformed rules on free…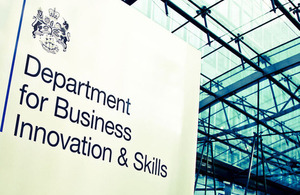 Proposals will include a planned new route to the UK IPO market for high-growth companies, which is likely to feature reformed rules on free float, eligibility criteria and reporting requirements. This will ensure that the needs of dynamic businesses - particularly internet and technology companies - and their investors are met.
Acting as a 'launch pad' for companies seeking a full Premium Listing, this is aimed, in particular, at European mid-sized high-growth businesses which are currently under-represented on the UK's public markets.
President Obama's JOBS Act streamlined the regulatory burden for growth companies listing on US public markets. These new proposals will now make the UK an equally attractive and competitive listing destination for high-growth businesses and are part of a larger ongoing process of ensuring that public markets continue to meet the funding needs of growing, ambitious companies.
In addition, Government will also investigate the current regulatory rules that may be deterring investors from funding growth companies, and will work with London Stock Exchange to widen the availability of equity capital for both UK and international businesses looking to make the UK their global base.
Minister for Universities and Science, David Willetts said:
"There is a rich crop of innovative European high-tech companies that will be going to the financial market over the next few years. We're determined to make sure that as many as possible should do an IPO and float in the UK, not elsewhere.
"This bold action will send a signal to entrepreneurs and investors across Europe that London's public markets are throwing open their doors to high-growth companies.
"I have no doubt that this new route to market will help to bring new investment and new jobs to London in the months ahead."
London Stock Exchange Group Chief Executive, Xavier Rolet said:
"There is a direct and proven link between IPOs and job creation. Attracting both entrepreneurial businesses and the investors that support them to the UK is key to driving growth and generating jobs.
"We are delighted to be working on this package of measures with the UK Government."
Stefan Glaenzer, co-founder of Passion Capital said:
"This is great news for technology entrepreneurs and investors across Europe. It's vital that we enable more European companies to IPO in London, as this will not only create vital new jobs and investment, but it will also help more European companies grow into world-beaters. We need to create digital companies who end up on the buy side and not sell out. An IPO is not a sell out, it's the beginning of the next phase."
Reshma Sehoni of Seedcamp said:
"Seedcamp and others have done a lot of work to support early stage tech companies in Europe. It's great news that the Government is announcing these proposals to make it more attractive for technology companies to IPO in London. The quality of the entire business ecosystem will improve if the UK remains globally competitive, and particularly so with the US, so that we retain more of our best tech companies and all the jobs and revenues that they create."
Neil Rimer of Index Ventures said:
"We've seen over the last 20 years, more and more great companies being born in Europe and Israel, but very few of these businesses have taken their next stage of growth by accessing one of the world¹s most powerful capital markets.
"It's great news for entrepreneurs everywhere that London is stepping up and not just being a great place to start a company but to build huge sustainable businesses. Our hope is that today¹s good news from Downing Street will encourage more high-growth companies created in Europe to go big and stay home."
**Notes to editors
**1. The new route to market will complement the UK's existing markets, including AIM, the Premium segment of the Main Market and the London Stock Exchange's recently launched and flourishing retail bond market.
The new route to market will target fast growing companies looking to finance further expansion. There are a large number of companies across Europe with significant growth ambitions. Research by Nesta shows that over 800 companies have received investment from UK VC funds raised between 2006 and 2009. An additional 2700 companies received investment from European funds raised over the same period. Many of these firms will ultimately seek to access public markets. Ten per cent of firms that received investment from UK or European VC funds raised between 1990 and 2005 went on to make an IPO.

These proposals will be set alongside the context of the Financial Services Authority's (FSA) ongoing consideration of wider issues around the quality of the listing regime - a discussion initiated in their January Consultation Paper (CP12/2): Amendments to the Listing Rules, Prospectus Rules, Disclosure Rules and Transparency Rules.

Further details on the eligibility criteria and benefits of the new route to market will be published (before the end of 2012).

In January 2012 the FSA consulted on changes to the Listing Rules. The Listing Rules are the responsibility of the United Kingdom Listing Authority (UKLA), operating under the FSA. The FSA proposed a number of changes to the Listing Rules that set out the requirements for companies listed in the UK. The Consultation Paper also set out some wider issues in relation to the premium listing standard and sought comments on this from market participants. As part of this process the FSA's consultation paper considered issues including the quality of the premium listing regime, the free float, minority shareholder protection (especially in situations where there is a controlling shareholder) and governance.

The consultation closed on 26 April 2012. Subject to responses, the FSA noted that it would consider whether to develop specific options or proposals for discussion in a further paper later this year. The FSA has indicated it intends to present its proposals next month.

The FSA's consultation can be found at www.fsa.gov.uk/static/FsaWeb/Shared/Documents/pubs/cp/cp12_02.pdf.

London Stock Exchange Group (LSE.L) sits at the heart of the world's financial community. The Group operates a broad range of international equity, bond and derivatives markets, including London Stock Exchange; Borsa Italiana; MTS, Europe's leading fixed income market; and Turquoise, offering UK and Russian derivatives trading, pan-European and US lit and dark equity trading. Through its markets, the Group offers international business unrivalled access to Europe's capital markets.

The Group is a leading developer of high performance trading platforms and capital markets software and also offers its customers around the world access and an extensive range of real-time and reference data products and market-leading post-trade services. The Group is also home to a world leading index provider FTSE, which creates and manages over 200,000 equity, bond and alternative asset class indices.

Headquartered in London, United Kingdom with significant operations in Italy and Sri Lanka, the Group employs around 1,850 people.

Further information on London Stock Exchange Group can be found at $2.

The Government's economic policy objective is to achieve 'strong, sustainable and balanced growth that is more evenly shared across the country and between industries.' It set four ambitions in the 'Plan for Growth' (PDF 1.7MB), published at Budget 2011:
To create the most competitive tax system in the G20

To make the UK the best place in Europe to start, finance and grow a business

To encourage investment and exports as a route to a more balanced economy

To create a more educated workforce that is the most flexible in Europe.
Work is underway across Government to achieve these ambitions, including progress on more than 250 measures as part of the Growth Review. Developing an Industrial Strategy gives new impetus to this work by providing businesses, investors and the public with more clarity about the long-term direction in which the Government wants the economy to travel.
BIS's online newsroom contains the latest press notices and speeches, as well as video and images for download. It also features an up to date list of BIS press office contacts. See [http://www.bis.gov.uk/newsroom](http://www.bis.gov.uk/newsroom) for more information.
Notes to Editors
Contact Information
Name BIS Press Office Job Title
Division Department for Business, Innovation & Skills Phone
Fax
Mobile
Email bispress.releases@bis.gsi.gov.uk
Name Sally Catmull Job Title
Division Department for Business, Innovation and Skills Phone 020 7215 6577 Fax
Mobile
Published 20 September 2012