Press release
Bogus claims to be thrown out as government steps up insurance fraud crackdown
Honest motorists will benefit from a major new government crackdown on insurance fraud with new measures announced by Justice Secretary Chris Grayling.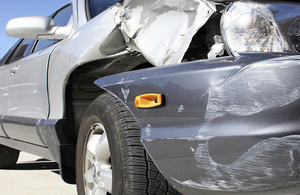 The price of an average motor insurance premium has seen a record fall of more than £100 over the past year, according to the latest AA statistics. Government reforms to tackle the growth of compensation culture and help hardworking people have made a major contribution to this fall.
The government has now pledged to do more as it continues to deliver the long-term plan to build a better and more financially secure future for Britain. It has welcomed assurances from the insurance industry that they will continue to do their part by passing on any savings that result from these reforms straight on to customers.
Despite the fall in average insurance premiums, recent figures from the Association of British Insurers have shown that the number of dishonest motor claims increased by 34% to a record 59,900 in 2013, with a value of £811 million.
A new package of measures to tackle insurance fraudsters and dishonest claims has been announced which will reduce the amount being paid out unnecessarily by insurance companies on fraudulent claims and enable them to pass on savings to honest customers. These will affect bogus claims, both motor claims and others such as 'trips and slips' at work and in public places.
They include:
requiring courts to throw out compensation applications in full where the claimant has been fundamentally dishonest – to stop people who have had an accident from exploiting the system by making bogus claims or grossly exaggerating the extent of their injuries
plans to ban lawyers from encouraging people to make claims by offering them incentives like cash or iPads
reducing questionable whiplash claims by improving medical assessments, ensuring they are only conducted by independent accredited professionals, and setting fixed fees for medical reports this year
introducing new rules this year to restrict the practice of settling whiplash claims without confirmation of the claimant's injury
Justice Secretary Chris Grayling said:
We are making sure we do our bit to help drivers with the cost of running a car, and putting money back in their pockets.

Insurance premiums have fallen by record amounts over the past year as we have turned the tide on the compensation culture but there is more to do. We are continuing to go after the fraudsters who force up costs for honest drivers.
The new measures are the latest stage of the government's delivery on the commitment to deal with high insurance costs made by the Prime Minister at an insurance summit in 2012. The latest Association of British Insurers average motor insurance premium tracker shows the average price of fully comprehensive insurance cover has reduced by 14% over the last year.
Roads Minister Robert Goodwill said:
The costs of owning and running a car are felt by millions of households and businesses across the country and this government is determined to help keep those costs down. Insurance premiums have fallen but we are keen to do more with the industry to drive down costs further.
Association of British Insurers Director General Otto Thoresen said:
These changes are a very positive development for the vast majority of honest insurance customers who end up paying for the fraud of the minority. We applaud the decision to ban the distasteful advertising which offers cash or other inducements for personal injury claims. This only serves to reinforce to unscrupulous claimants that there is a compensation culture to exploit.
Notes to editors
In February 2012, the Prime Minister David Cameron pledged action to tackle high insurance premiums following a summit with the insurance industry, where insurers committed to pass on savings to their customers.
Since then the Ministry of Justice (MoJ) has:
Transformed no win, no fee deals so lawyers can no longer double their fees if they win, at the expense of defendants and their insurers
Banned 'referral fees' paid between lawyers, insurers, claims firms and others for profitable claims – which have driven the growth of compensation culture
Reduced by more than half the fees lawyers can charge insurers for processing basic, uncontested claims for compensation for minor injuries suffered in road accidents – from £1,200 to £500
Banned claims management companies from offering cash incentives or gifts to people who bring them claims. Recommend a friend deals also banned, along with contracts agreed only over the phone
Changed the law so that regulated companies which breach Claims Management Regulation Unit rules can be fined (as well as the existing sanctions of being suspended of closed down). We have recently consulted on the level of the fines – which are proposed at up to 20 per cent of the annual turnover of companies - for offences including using information gathered by unsolicited calls and texts, providing bad services or wasting time and money by making spurious or unsubstantiated claims. This will mean fines of hundreds of thousands of pounds, and potentially millions in some cases
2.The proposal to throw out compensation applications where the claimant has been fundamentally dishonest will apply unless it would cause substantial injustice to do so.
3.View the AA's insurance update.
4.View the ABI quarterly insurance index.
5.See the Claims Management Regulation update, and further information about the CMR unit.
6.For further information please call MoJ's press office on telephone: 020 3334 3536 or Department for Transport press office on telephone: 020 7944 2813. Follow us @MoJpress
Published 7 June 2014