News story
Body-worn cameras set to reduce crime and support military training
Innovative body-worn cameras will be used by MOD officials to help educate troops and reduce nuisance and crime on Salisbury Plain.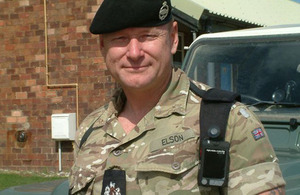 The new cameras will be worn by Training Safety Marshals, Training Area Marshals and Range Wardens who patrol on Salisbury Plain and in West Devon and Wyke Regis to help them gather evidence and to help reduce aggressive behaviour.
Incidents of unauthorised access of the Salisbury Plain Training Area (SPTA) by hare coursers and large off-road convoys have risen over the past few years. Body-worn cameras are increasingly being used by police and local authority staff and they can also be attached to vehicle windscreens where they are used to record images without distracting the driver.
Tom Greely, a Training Safety Marshal in the north of the Home Counties, who uses a body-worn camera, said:
The camera has been an extremely useful addition to the Training Safety Marshals and has come into service just at the right time.

With more units using the training areas and more urban expansion around the boundary of the military training estate, confrontation with the public is inevitable. The cameras are a great help.
Lieutenant Colonel Mark Hiskett, Principal Training Safety Officer, Defence Infrastructure Organisation (DIO), said:
DIO's priority is to support our Armed Forces as they prepare for operations. We have a legal obligation to look after and maintain the training area to ensure that it is fit for this purpose and we are always looking at ways to improve public safety.

The introduction of the new body cameras on Salisbury Plain will hopefully help to reduce nuisance and crime on the Plain and make it a safer place for those using it for legitimate recreational purposes.
The body cameras will also be used by the military during training exercises. The cameras can record soldiers' movements and actions as they train, and the footage will then be used during the post-exercise debriefing process where valuable lessons can be learned.
The SPTA is maintained by DIO, which delivers the training service, enabling Defence training users to live, work, train and deploy at home and overseas.
At over 38,000 hectares (94,000 acres) Salisbury Plain is the UK's largest training area and offers first-class and diverse training facilities to enable the British Army to meet its training requirements to prepare for operations worldwide.
Published 28 August 2013