Body armour saves soldier's life in Afghanistan
A British soldier, recently deployed to Afghanistan, has escaped serious injury or worse thanks to his Osprey Body Armour.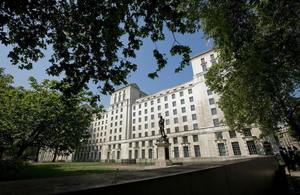 Ranger (Rgr) Ryan Boyd, from 1st Battalion The Royal Irish Regiment, would almost certainly have been killed by a Taliban bullet had he not been wearing the British Forces' latest issue Osprey body armour.
One of the side plates fitted to the armour absorbed the force of the insurgent's shot which knocked Rgr Boyd off his feet and left him with bruising on his torso.
Rgr Boyd was patrolling earlier this month with his unit in the Nad 'Ali district of Helmand province when they came under attack. The purpose of the patrol was his unit who had just arrived in Helmand province to map the terrain and show a reassuring presence to the local community.
The insurgents mounted an ambush on the troops but the Rangers successfully held them off for 25 minutes before the artillery dropped 105mm shells on the enemy, eliminating the threat.
Rgr Boyd said:
Whilst patrolling, we came under attack from several enemy positions. As I was returning fire with my Light Machine Gun, I was thrown off my feet and felt a sharp pain in my side.
I told the sergeant next to me that I had been hit. He checked for bleeding and told me I wasn't bleeding, so I carried on engaging the enemy. Only later when things had calmed down was I able to assess the damage.
I feel lucky to have got out of this uninjured but I think it just shows what a fantastic piece of kit the Osprey body armour system is.
Lieutenant Colonel David Eastman, spokesman for Task Force Helmand, said:
Troops' equipment is improving all the time and will continue to improve as new technology becomes available. The latest improvements to Osprey body armour make a real difference to soldiers' personal protection and this incident demonstrates what a lifesaver it can be.
Osprey body armour provides troops with protection balanced with the necessary manoeuvrability and comfort for them to carry out their tasks effectively.
Coventry company NP Aerospace manufactures the body armour plates used by UK troops in Afghanistan. The company's Chief Executive, Roger Medwell, said:
The whole workforce who manufacture this plate in Coventry will be thrilled to hear that another life has been saved by their work.
Published 28 October 2010