World news story
Body Armour, Blankets & Backing Lebanon's Stability
Hugh Robertson announces UK to give £24m for Syrian refugees & host communities in Lebanon and £1m for Special Tribunal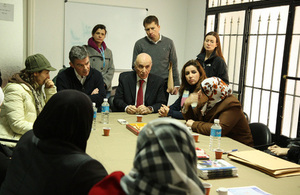 Foreign and Commonwealth Office Minister for the Middle East, Hugh Robertson MP has completed an official two-day visit to Lebanon, his first since taking up his position in October 2013.
Speaking at the end of the visit, Mr Robertson said:
'My visit to Lebanon comes at a difficult period for the country; I welcomed continued efforts to form a new consensual government able to move the country forward. The UK remains fully committed to Lebanon's peace, stability and prosperity.'
The Minister met President Michel Sleiman, Prime Minister Designate Tammam Salam, Speaker Nabih Berri, Army Commander General Jean Kahwaji and other political figures. In his discussions, Minister Robertson confirmed the UK's strong support for Lebanon's peace and stability. He also welcomed our excellent bilateral relations and urged formation of a new government.
Mr Robertson visited AMEL Women's centre in Ain El Remmeneh and the United Nations High Commissioner for Refugees' (UNHCR) registration Centre in Jnah where he saw first-hand the situation of Syrian refugees and host communities, and how UK support was making a difference. He announced a new commitment of £24 million in humanitarian assistance for Lebanon's response to the crisis. This allocation is part of the £60m announced by International Development Secretary Justine Greening on 11 December to help refugees in the region cope with the harsh winter. In Lebanon this additional assistance will provide:
winter packages containing warm clothing and thermal blankets;
winter tents and shelter material;
heaters, fuel and insulation kits for displaced families;
medical care, including ante-natal support for expectant mothers.
Mr Robertson also highlighted an additional £1m of new UK funding to the Special Tribunal for Lebanon. This takes the UK's total contribution to £5.3 million, and demonstrates our belief in the Special Tribunal, which is working to end the culture of impunity for political assassinations in Lebanon.
At an army logistics base in Kafer Shima, Hugh Robertson met Lebanese Armed Forces (LAF) soldiers trained by the UK who would soon benefit from the Communications Equipment, Body Armour and Watch Towers UK support is providing. He also presented a senior LAF General the keys to 70 Land Rovers as part of the UK's commitment to Lebanon's security and stability.
Published 11 December 2013