Bob Watson becomes a Fellow of the Royal Society
Defra's Chief Scientific Adviser Professor Bob Watson has been elected as a Fellow of the Royal Society.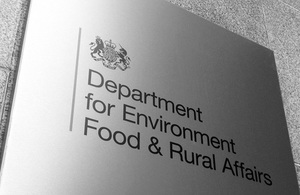 The Royal Society is a Fellowship of the world's most eminent scientists and is the oldest scientific academy in continuous existence. Fellows are elected for life, and gain the right to use the letters FRS after their names.  Professor Watson joins the ranks of such members as, Isaac Newton, Charles Darwin, Ernest Rutherford, Albert Einstein, Dorothy Hodgkin, Francis Crick, James Watson and Stephen Hawking.
Professor Watson said:
"I am extremely honoured and humbled to join a fellowship of the world's most eminent minds in the world's oldest scientific academy, which has existed since the seventeenth century."
Environment Secretary Caroline Spelman said:
"This is a tremendous and richly deserved accolade. For many years Bob has been at the forefront of environmental scientific research that has greatly improved our understanding of crucial issues such as ozone depletion and climate change. As Chief Scientist at Defra Bob has ensured our department continues to benefit from first class evidence in shaping policy decisions, and I know I speak for the whole of Defra when I say how proud we are of his latest achievement."
The honour is the latest in a number of awards made to Professor Watson, most recently the Blue Planet Prize, Japan's equivalent of the Nobel Prize, in 2010. He also shared in the Intergovernmental Panel on Climate Change 2007 Nobel Peace Prize.
Published 20 May 2011