Blue Planet Prize: UK winner
UK climate expert receives award for bridging the science-policy divide on climate change.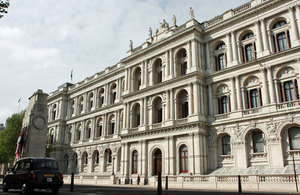 Dr Watson recieves the prize from Mr Tanaka, Chairman of the Asahi Glass Foundation
Chief Scientific Advisor of the UK's Department for Environment, Food and Rural Affairs (DEFRA), Dr Robert Watson has visited to Japan to receive the prestigious Blue Planet Prize from the Asahi Glass Foundation. The Foundation highlighted two of Dr Watson's key achievements:
During the 1980s Dr Watson led a team of scientists investigating the depletion of the ozone layer, and communicated to policy makers the importance of taking action against the threat posed by such an eventuality.
Later, as Chair of the Intergovernmental Panel on Climate Change (IPCC), Dr Watson played a significant role in coordinating and bridging the science and policy communities, in order to protect the world's environment.
On receiving his award, Dr Watson said:
"I believe there is no dichotomy between protecting our environment and sustainable economic growth by using environmentally-friendly technologies, developing policies that protect the environment, and engendering a philosophy of individual behaviours that recognise the importance of nature. In fact, improving the lives of the billions of people who live in abject poverty, cannot be achieved unless we provide clean energy and water, protect our biological resources, and address human-induced climate change. Therefore, we need the scientific community to work with governments, the private sector and civil society to reshape the way we produce and use energy and manage our lands."
David Warren, Britain's Ambassador to Japan, offered congratulatory comments at the award ceremony on Tuesday to both Dr Watson and his fellow prize-winner Dr James Hansen from the US, saying:
"More than ever we have seen how important it is to have sound and compelling science to increase our understanding of the Earth's climate and our impact on it. Dr Hansen and Dr Watson have made an outstanding contribution to this and I hope that together they and the thousands of other members of the science community will continue with their efforts to support the case for urgent action on climate change and to guide the world's response to it."
Published 27 October 2010