World news story
Blood donation drive at the British Embassy Dubai
British Embassy staff team up with Dubai Health Authority for blood donation session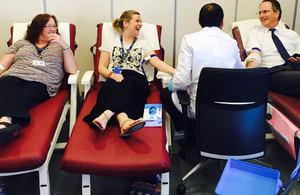 British Embassy staff participated last Thursday in a blood donation session with the Dubai Health Authority's Blood Donation Centre. More than 20 Embassy staff donated blood, including Her Majesty's Ambassador to the UAE, Mr Philip Parham.
Speaking after the event, Her Majesty's Consul General to Dubai, Mr Paul Fox said:
We all read about the increasing demand for blood, particularly during the summer and the holy month of Ramadan. The need for donations never ceases. The Dubai Blood Donation Centre does an incredible job at trying to meet the demand and ensure that blood is available when it is needed most. Today we wanted to make our own modest contribution to this inspiring work.
Contact for this press release
Sam Kelly
Press and Public Affairs
Tel: +971 4 309 4444
Published 1 February 2016