Blinded George Medal recipient takes on Kilimanjaro
A heroic soldier awarded the George Medal for bravery in Afghanistan protecting colleagues from Taliban IEDs, which resulted in him being blinded, is to climb the world's tallest free-standing mountain for charity.
Rifleman Paul Jacobs, from 2nd Battalion The Rifles, suffered severe injuries from an improvised explosive device (IED) in the Upper Sangin Valley in 2009.
The explosion which cost him his sight occurred when Rifleman Jacobs was leading his patrol up one of the most heavily IED'd stretches of road in the whole of Afghanistan.
A member of his company was fatally wounded in an initial explosion and, with just a single cover man, Rifleman Jacobs set about clearing up to and around the body. Then, as he moved back towards his cover man who had now come forward, another device suddenly exploded, killing his comrade.
Rifleman Jacobs was himself seriously wounded, but, suffering severe fragmentation damage to his eyes and bleeding heavily from multiple wounds, he had the presence of mind and experience to drag himself back onto the safe route he had just cleared and into a position where his extraction would be safer for others.
His medal citation, last March, praised his 'faultless courage, selflessness and dedication to his unit'.
Rifleman Jacobs has been given unstinting support in his battle to overcome the challenges imposed by his injuries by St Dunstan's, a charity that helps blind and partially-sighted ex-servicemen and women live independently.
Now, the young Rifleman is aiming to raise £8,000 for St Dunstan's by climbing Mount Kilimanjaro, which towers almost 6,000 metres above sea level in Tanzania, East Africa.
Rifleman Jacobs will be joined on his expedition, which was due to begin yesterday, by Peter Smith, father of his fiancee Louise, who was his carer at Selly Oak Hospital. The pair will face six hours of gruelling climbing each day, in a test of mental as well as physical stamina.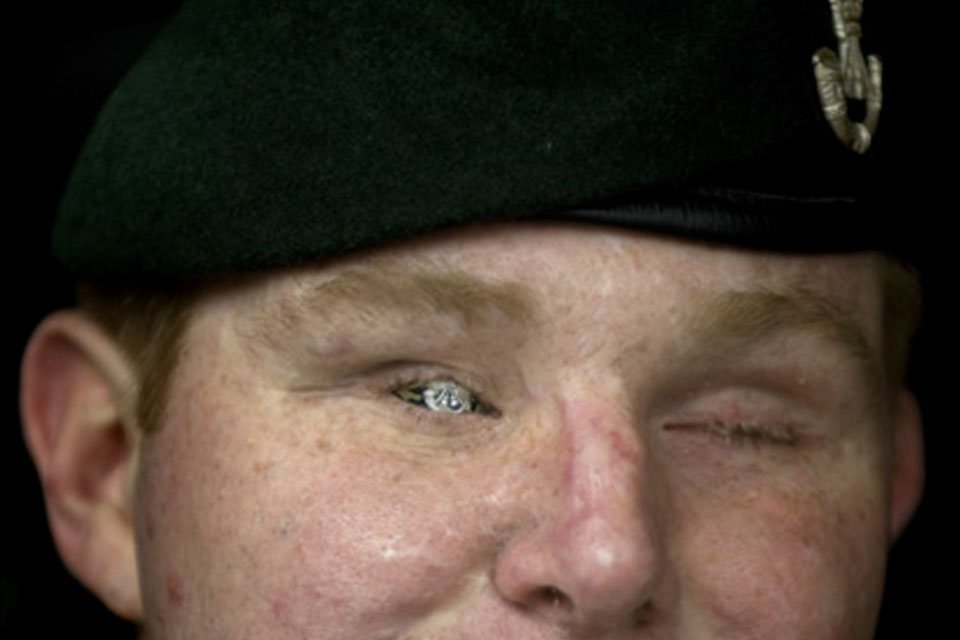 Rifleman Jacobs described his determination to succeed in overcoming one of the world's most awesome wonders of nature:
This is one of the toughest challenges I've ever faced, but I won't give up until I reach the summit," he said.
"St Dunstan's has been a lifeline for me. This is my way of giving them something back. Knowing that money raised from my challenge will help to transform the lives of others will get me to the top of the mountain."
His desire to help raise money for injured veterans is much appreciated by the small charity. Paying tribute to his selfless courage, Denise Yeats, St Dunstan's Community & Events Fundraising Manager, said:
Paul has set himself an incredible challenge and we're immensely proud and grateful for the sacrifices he is making to raise money for our ex-Service personnel.
"Thanks to the tireless support of people like Paul we can help support an independent future for blind and partially-sighted members of our Armed Forces.
What Paul is attempting to do is remarkable. This Herculean effort is a perfect example of the lengths to which people will go to for St Dunstan's. His courage and determination are awe-inspiring.
To sponsor Rifleman Jacobs, you can visit his 'Just Giving' website page - The Big Ginge and Peter's Kilimanjaro Trek 2011 for St Dunstan's - or make cheques payable to St Dunstan's and post them to St Dunstan's, Fundraising Dept, 12-14 Harcourt Street, London W1H 4HD, stating that the payment is for Rifleman Paul Jacobs' Mount Kilimanjaro challenge.
Published 4 February 2011