News story
BIS statement on the Science and Technology Committee Report Bridging the Valley of Death: Improving the Commercialisation of Research
Statement on the Science and Technology Committee Report Bridging the Valley of Death: Improving the Commercialisation of Research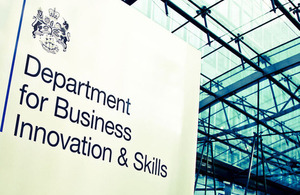 A BIS spokesperson said:
The government has set out a clear approach for making the most of our world-class science and research base. We are helping innovative SMEs access finance by investing in Enterprise Capital Funds and the UK Innovation Investment Fund, on top of introducing a substantial R&D tax credit scheme. We are setting up a Business Bank to support the development of diverse finance markets for businesses. Despite enormous economic pressure we have protected the £4.6 billion annual budget for science and research.
Over £1.2 billion is being invested over three years through the Technology Strategy Board to support business-led innovation, of which £250 million is being spent establishing a network of Catapult Centres to bring new technologies to market. This week we announced around £50 million of projects supported by the Biomedical Catalyst, a £180 million programme to bridge the 'valley of death' in biomedical sciences.
Notes to editors
1.The government's economic policy objective is to achieve 'strong, sustainable and balanced growth that is more evenly shared across the country and between industries'. It set four ambitions in the 'Plan for Growth' (PDF 1.7MB), published at Budget 2011:
to create the most competitive tax system in the G20
to make the UK the best place in Europe to start, finance and grow a business
to encourage investment and exports as a route to a more balanced economy
to create a more educated workforce that is the most flexible in Europe.
Work is underway across government to achieve these ambitions, including progress on more than 250 measures as part of the Growth Review. Developing an Industrial Strategy gives new impetus to this work by providing businesses, investors and the public with more clarity about the long-term direction in which the government wants the economy to travel.
Published 13 March 2013