News story
BIS Statement on Guildhall College
Guildhall College, based in East London, started registering students for its HND courses in April. Significant numbers of students at the College…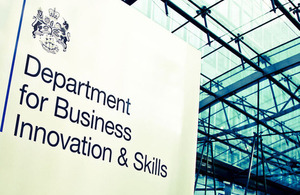 Guildhall College, based in East London, started registering students for its HND courses in April. Significant numbers of students at the College contacted the Student Loans Company (SLC) during the first half of September to express concerns that they were unable to start their courses on the agreed dates, and received little clear information on when they might expect to start. Students also reported that they appeared to be registered for a different course to the one they wished to study. The Department for Business, Innovation and Skills then undertook a joint investigation with the SLC, which has confirmed these irregularities.
As a result, the HND courses offered by Guildhall College will cease to be eligible for student support with immediate effect. The Department is taking this action to protect the students and the public purse.
The SLC is in the process of contacting all students affected to discuss their individual circumstances. In recognition of the impact of the College's actions and that students have only just started at the College, the Department has decided that they will be deemed never to have started their course. Students will retain their existing entitlements to student support if they choose to study another HE course.
**Notes to editors
**1. The Government's economic policy objective is to achieve 'strong, sustainable and balanced growth that is more evenly shared across the country and between industries.' It set four ambitions in the 'Plan for Growth' (PDF 1.7MB), published at Budget 2011:
To create the most competitive tax system in the G20

To make the UK the best place in Europe to start, finance and grow a business

To encourage investment and exports as a route to a more balanced economy

To create a more educated workforce that is the most flexible in Europe.
Work is underway across Government to achieve these ambitions, including progress on more than 250 measures as part of the Growth Review. Developing an Industrial Strategy gives new impetus to this work by providing businesses, investors and the public with more clarity about the long-term direction in which the Government wants the economy to travel.
BIS's online newsroom contains the latest press notices and speeches, as well as video and images for download. It also features an up to date list of BIS press office contacts. See http://www.bis.gov.uk/newsroom for more information.
Notes to Editors
Contact Information
Name BIS Press Office Job Title
Division Department for Business, Innovation & Skills Phone
Fax
Mobile
Email bispress.releases@bis.gsi.gov.uk
Name Emma Griffiths Job Title
Division Department for Business, Innovation and Skills Phone 020 7215 5982 Fax
Mobile
Published 23 October 2012