News story
BIS statement in response to GM announcement on Astra at Ellesmere Port
"This is fantastic news and secures car production at Ellesmere Port until at least 2020. I am delighted for Vauxhall's exemplary workforce …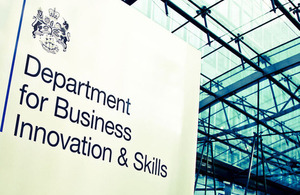 "This is fantastic news and secures car production at Ellesmere Port until at least 2020. I am delighted for Vauxhall's exemplary workforce and management who have all worked hard to make the cost savings needed and ensure that the UK remains at the centre of GM's operations in Europe.
"The unions and the Government also played a significant role in demonstrating to GM's board that Vauxhall has a very flexible workforce and making the commercial case for their continued investment in the UK.
"Today's news shows that GM is now committed to the UK for the long-term like other global vehicle manufacturers such as Nissan, Jaguar Land Rover, Ford, Honda, Toyota and BMW. It is further testament to the strength of the UK auto sector."
**Notes to editors
**BIS's online newsroom contains the latest press notices, speeches, as well as video and images for download. It also features an up to date list of BIS press office contacts. See http://www.bis.gov.uk/newsroom for more information.
Notes to Editors
Contact Information
Name BIS Press Office Job Title
Division Department for Business, Innovation & Skills Phone
Fax
Mobile
Email bispress.releases@bis.gsi.gov.uk
Name Rebecca Murrell Job Title
Division Department for Business, Innovation and Skills Phone 020 7215 6403 Fax
Mobile
Published 17 May 2012