News story
BIS projects confirmed
Vince Cable has confirmed that funding for low carbon and science projects and the Post Office Network will go ahead following a Treasury review.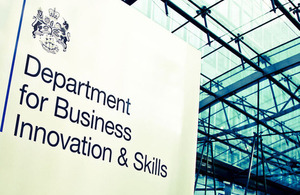 The Treasury carried out a review of significant projects announced since January 2010 to check they were affordable, value for money and that they fitted in with the priorities of the Coalition Government.
Business Secretary Vince Cable confirmed the following BIS projects will go ahead:
Bristol and Bath Science Park - £2.6 million
International Space Innovation Centre in Harwell - £12 million
Discovery Research Ship - £75 million
National Renewable Energy Centre (NAREC) Offshore Wind Blade Test Site, Blyth - £11.5 million
NAREC Offshore Wind Turbine Test Site - £18.5 million
Offshore Wind Demonstration and Development - £12.4 million
Offshore Wind, Mitsubishi Collaborative R&D to support Mitsubishi and partners - £30 million
Support for the Post Office Network - £180 million
Spectrum clearance costs.
Two previously announced projects are no longer to receive funding from Government. These are:
Sheffield Forgemasters
Outokumpu - Sheffield.
Business Secretary Vince Cable said:
"In the economic climate that we find ourselves in some of the commitments previously made by Government can now no longer go ahead.
"This is why it is so important that there is support for skills, science and entrepreneurship through more apprenticeships, spending on gold standard science research and slashing burdensome red tape."
All of the projects which have not met the criteria will now be wound up or Government will seek alternative ways to ensure that they go ahead.
Links
Published 17 June 2010