News story
BIS partner bodies streamlined
Changes announced to create greater efficiency and clarity in the way government works.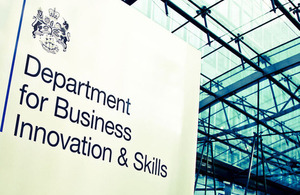 After a thorough and detailed analysis of its partner organisations BIS has identified which bodies to retain and those that will be reformed, merged or no longer classed as non departmental public bodies. This will help to deliver more effective and efficient public services.
Changes to the Department's partner organisations involve:
19 bodies will no longer be NDPBs
6 bodies will be merged
2 bodies will no longer be Public Corporations
21 bodies are being retained, and
9 bodies are being considered further.
Details of BIS partner bodies (PDF, 54 Kb)
Changes include:
The Competition Commission (CC) and the competition functions of the Office of Fair Trading (OFT) merged to form a single competition and markets authority.
The Design Council and NESTA's innovative work will continue and be enhanced by seeking to change their status to private sector charities(read the Design Council's review, published today).
POSTCOMM will be merged with OFCOM to strengthen communication regulation.
The Financial Reporting Council (FRC) will retain its current independent status but changes will be made to remove its reliance on government funding
Reform of competition and consumer bodies
Included in the announcement today are proposals to strengthen the competition regime, by bringing together the Competition Commission (CC) and the competition functions of the Office of Fair Trading (OFT) to form a single competition and market authority.
This new body would be responsible for merger regulation, market investigations, cartel and antitrust cases, as well as a number of functions with respect to the regulated utilities.
The Government has also carried out a review of the landscape of consumer protection bodies, and will publish a consultation early next year with proposals to streamline and transfer the functions of Consumer Focus, and other consumer bodies, to the Citizens Advice service. Most consumer enforcement will pass to local authority trading standards.
Business Secretary Vince Cable said:
"Consumers are represented by a bewildering array of public, private and voluntary bodies, which often duplicate efforts to inform, educate and advise consumers of their rights. Our aim is to create a simpler structure with a single competition authority and a stronger role for front-line consumer services."
Published 14 October 2010