News story
BIS HQ showcases UK manufacturing to attract new talent
The Government is committed to promoting manufacturing as it is critical to economic growth with responsibility for 53 per cent of UK exports…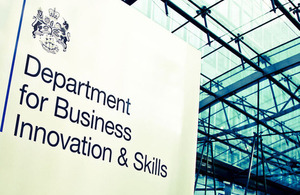 The Government is committed to promoting manufacturing as it is critical to economic growth with responsibility for 53 per cent of UK exports and 2.8 million jobs.
With new business opportunities, such as low carbon products, emerging all the time BIS wants to work with the manufacturing industry to encourage new talent and attract new businesses to the sector.
The exhibition is the first in a planned rolling programme of themed displays demonstrating excellence in British design, engineering and manufacturing.
---
The theme for the opening programme is the engineering supply chain and exhibits have been provided by JCB as well as three other companies who are part of their supply chain: Craftsman Tools, Renishaw and Mazak UK.
Exhibiting products include the Union Jack painted Backhoe Loader JCB which will be placed in the forecourt of One Victoria Street.
Business Minister Mark Prisk said:
"Britain is a world leader in manufacturing but if we are to inspire future generations we must do all we can to promote UK excellence.
"As a signal of our intent we have invited shining examples of British design, engineering and manufacture to showcase their products at the department.
"I am extremely grateful to JCB, Craftsman Tools, Renishaw and Mazak UK, four leading companies in the engineering supply chain, for contributing exhibits to this event."
To help illustrate the theme the exhibits will be displayed so that visitors from the business community can follow the supply chain through the displays in the main reception and lift lobby areas.
This exhibition will also help to raise awareness of manufacturing in the build up to the launch of a new manufacturing framework in the autumn which will detail specific plans for encouraging growth in this sector.
As an early signal of support for the manufacturing sector BIS has already redirected savings within the department to strengthen both investment in FE colleges and to create 50,000 new apprenticeships.
NOTES TO EDITORS
JCB - is one of the world's largest construction equipment manufacturers and has its headquarters in Rocester. They are supplying a Backhoe Loader painted in Union flags and a display highlighting UK content.

Renishaw - is a global company with core skills in measurement, motion control, spectroscopy and precision machining. Its headquarters are in Gloucestershire. The company has won 12 Queen's Awards, and invests 17% of turnover in R&D/Engineering. The display will include a mini mock up of one of their machines and examples of products produced.

Yamazaki Mazak - is the world's largest manufacturer of CNC metal-cutting machine tools used in a cross section of sectors as well as CAD/CAM products and factory management software. The Yamazaki Mazak UK plant is currently the most advanced of its type in Europe, providing machine tools and sophisticated manufacturing systems to customers in more than 30 countries throughout Europe. The company employs 300 plus in UK. They are supplying a Wing rib component made on one of their machines which was designed and built in their UK factory in Worcester.

Craftsman Tools Ltd - is a family owned business providing tool holding, work holding and sub-contract machining solutions to the UK and global markets for nearly 60 years. Their expertise spans a wide range of sectors, including Oil exploration, Aerospace, Machine Tool Manufacture, Automotive, Electrical and Power Generation.

The UK is one of the World's leading manufacturers contributing £140bn pa to the UK economy.

In addition to the Engineering Supply Chain there are plans to exhibit manufacturing products on the following themes: Green Manufacturing, High-tech Manufacturing, Innovative Design, Olympics 2012 and Science and Manufacturing.

The BIS online newsroom contains the latest press notices, speeches, as well as video and images for download. See http://www.bis.gov.uk/newsroom for more information.
Notes to Editors
Contact Information
Name BIS Press Office Job Title
Division COI Phone
Fax
Mobile
Email NDS.BIS@coi.gsi.gov.uk
Name Ashley Rogers. Job Title
Division Department for Business, Innovation and Skills Phone 020 7215 5971 Fax
Mobile
Published 6 September 2010