News story
BIS hosts exhibition of UK made London 2012 products which will be sold around the world
The exhibition will last until Friday March 4 and has been designed to show the diversity of UK manufacturing involved in the London 2012 Olympic…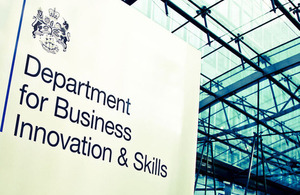 The exhibition will last until Friday March 4 and has been designed to show the diversity of UK manufacturing involved in the London 2012 Olympic and Paralympic Games.
An estimated 75,000 companies across the country will win £6billion worth of London 2012 work over the lifetime of the project, supporting growth in the UK manufacturing sector.
Business Minister Mark Prisk said:
"Growing the manufacturing sector is a central part of our plans to create economic growth so it is vital that we take advantage of new business opportunities such as the Olympic and Paralympics Games.
"The UK companies on display here, and thousands, more are using London 2012 to export their products and services around the world as well expanding their companies and employing more people.
"As part of the Advanced Manufacturing Growth Review we will announce new proposals to grow UK industry by the time of the budget."
The Olympic exhibition is part of a rolling series designed to showcase UK manufacturing excellence.
Exhibits at BIS include:
Soft toys of the Olympic Games mascots "Mandeville" and "Wenlock" made by Shropshire based company Golden Bear Toys. Their licensed range also includes key rings, collectable figurines, stickers and backpacks.
Model of the Olympic Stadium which shows the thousands of companies that have been involved in the 2012 build. The model has been in exhibitions all over the globe and is going to Geneva next.
Aerial photography, 3D modelling and a flyover video of the Olympic park. This has been produced by Leeds based company Astrium (Infoterra Ltd) to help with the construction.
Twenty nine commemorative 50p coins produced by the Royal Mint and depicting the sports of the Olympic and Paralympic Games. The Royal Mint is a UK Manufacturer based in Llantrisant, South Wales, with over 1000 years of minting experience and produces coins and medals for 60 countries around the world.
A range of wallet tools and limited edition playing cards, made from stainless steel by Cambridge based company Touch of Ginger and will be marketed at blue chip companies.
London 2012 branded souvenirs made by Sussex based Icon Live including flags, button badges, wrist bands, charms, hair accessories, deelyboppers, masks and removable tattoos.
The next exhibition at BIS will display low carbon vehicles that have been manufactured in the UK and will run from March 14-25.
BIS is also drawing up plans for an exhibition of UK manufacturing to be held in 2012 aimed at visitors to the Olympics which is expected to attract CEOs of 250 FTSE companies; 150 heads of state and nine million visitors including 10,000 British businesses.
Notes to editors
There are still a number of contracts remaining for London 2012. Companies can register on www.competefor.com for opportunities.
Companies can also find details of contracts that are open to tender over the next six months at: http://www.london2012.com/documents/business/future-competefor-opportunities-feb-aug-2011.pdf
The BIS online newsroom contains the latest press notices, speeches, as well as video and images for download. See http://www.bis.gov.uk/newsroom for more information.
Notes to Editors
Contact Information
Name BIS Press Office Job Title
Division COI Phone
Fax
Mobile
Email NDS.BIS@coi.gsi.gov.uk
Name Ashley Rogers. Job Title
Division Department for Business, Innovation and Skills Phone 020 7215 5971 Fax
Mobile
Published 1 March 2011