Press release
BIS confirms teaching bursaries to continue for top graduates
Nick Boles announces the continuation of a bursary scheme to encourage more top graduates to begin a teaching career in further education.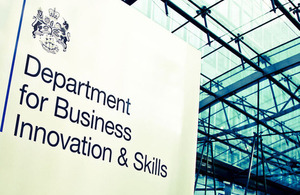 Skills Minister Nick Boles has today (17 October 2014) announced the continuation of a bursary scheme to encourage more top graduates to begin a teaching career in the further education sector.
The funding is specifically for teachers in maths, English and Special Educational Needs (SEN). This scheme was previously available for the 2013 to 2014 and 2014 to 2015 academic years and the Department for Business, Innovation and Skills (BIS) has confirmed this will continue for teachers recruited to begin in September 2015 for the 2015 to 2016 academic year.
Skills Minister Nick Boles said:
I am delighted to be able to extend this bursary scheme and be able to bring it in line with the incentives offered to teach in schools. It highlights the importance of maths, English and SEN teaching across all levels of education in order to give everyone the foundation to succeed in the future.

We should encourage the brightest and best graduates to think about a career in teaching and these bursaries may offer the extra push that's needed. This is an important part of the £30 million that we have made available to support our FE workforce strategy, published in July 2014.
The maximum bursary available is £25,000 and this is for maths graduates with a first class degree. The bursaries then decrease in value, depending on the subject studied and level of degree achieved. The funding is made available specifically for those who choose to undertake an Initial Teacher Training (ITT) programme, which means earning a teaching qualification prior to beginning employment in the further education sector.
David Russell Chief Executive of the Education and Training Foundation (ETF) said:
Teaching in the education and training sector is a fantastic career choice for ambitious graduates; it's rewarding, it's immensely varied, there are lots of opportunities for progression, and if you're talented and ambitious, you can carve out a great career.

So it's great news that the further education bursary scheme will not just continue, but be significantly enhanced. Increasing the amount available to the most able maths graduates in line with what's currently on offer in schools means there has never been a better time to come and teach in our exciting and diverse sector.
Recruitment for these graduates will open in October 2014 and they will be due to begin their training from September 2015. For more information on the scheme and details on how to apply, contact: feworkforceincentives@bis.gsi.gov.uk
The government's FE Workforce Strategy (July 2014) detailed a range of initiatives to support recruitment and improvement in standards of teachers, supported by £30 million of public investment from BIS.
A similar initiative to attract the brightest graduates into schools to teach key subjects like maths and physics was recently announced by the Department for Education, with bursaries and prestigious scholarships worth £25,000 tax free to be offered.
The full list of bursaries and scholarships available for the academic year 2015 to 2016 can be found at Funding: initial teacher training, academic year 2015 to 2016
Notes to Editors:
The levels of bursary available are as follows:
| ITT Specialism | Degree Class | Degree Class | Degree Class | Degree Class |
| --- | --- | --- | --- | --- |
|   | First | 2.1 | 2.2 | other |
| Mathematics | £25,000 | £20,000 | £15,000 | £9,000 |
| English | £9,000 | £4,000 | No bursary | No bursary |
| SEN | £9,000 | £4,000 | No bursary | No bursary |
Note - Other is defined as learners who achieve a degree class lower than 2:2 but with at least a B at A level.
the bursary is a tax free incentive that is available to trainees who meet the eligibility requirements
the scheme is paid through ITT providers who claim the bursary on behalf of their trainees. The bursary is then paid out to them while they train. This is managed by the National College for Teaching and Leadership on behalf of the Department for Business, Innovation and Skills.
Published 17 October 2014