Press release
BIS confirms ICE Academy campuses not entitled to student support designation
BIS has confirmed that the ICE Academy's campuses in Manchester, Bedford and Croydon have never been designated for student support.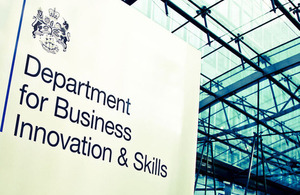 The Department for Business, Innovation and Skills (BIS) has confirmed that the ICE Academy's campuses in Manchester, Bedford and Croydon have never been designated for student support. Students at these campuses have never been eligible for student support. ICE Academy should not have advertised places on these courses as being eligible for support. These students will not receive any further payments and fee loans paid to the College on their behalf will be recovered by Student Loans Company (SLC).
Following an investigation ICE Academy admitted that it had supplied misleading information to the SLC about where some of its students were studying. They had provided details that led the SLC to believe that around 400 students studying at Manchester, Bedford and Croydon were studying at campuses where courses were designated for student support.
BIS hopes that ICE Academy will help students who wish to either continue their studies without public funding at one of their campuses or find a suitable course at another provider. For students moving to a new provider, BIS will consider approving their student support at that provider on a case by case basis. However, BIS will not approve student support payments for any students that transfer to another course at ICE Academy.
ICE Academy have also been informed that if in the future it goes beyond the terms of its designations or knowingly misleads SLC, BIS may decide to withdraw some or all of their designations.
The Department is sorry that ICE Academy has put these students in such a difficult position.
Please direct all queries to Satish Visavadia at the ICE Academy on 0116 255 5003 or by email at: satish@iceacademy.net.
Notes to editors
1.The government's economic policy objective is to achieve 'strong, sustainable and balanced growth that is more evenly shared across the country and between industries'. It set 4 ambitions in the 'Plan for Growth', published at Budget 2011:
to create the most competitive tax system in the G20
to make the UK the best place in Europe to start, finance and grow a business
to encourage investment and exports as a route to a more balanced economy
to create a more educated workforce that is the most flexible in Europe
Work is underway across government to achieve these ambitions, including progress on more than 250 measures as part of the Growth Review. Developing an Industrial Strategy gives new impetus to this work by providing businesses, investors and the public with more clarity about the long-term direction in which the government wants the economy to travel.
Published 30 January 2014