Birthday honours awarded to Brits for exceptional achievement abroad
This year's Diplomatic Service and Overseas Birthday Honours list is full of British people doing exceptional work in support of British interests overseas.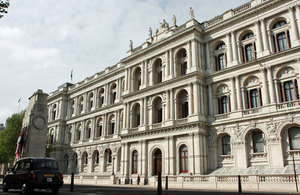 Those receiving awards work in fields as diverse as business, justice, stabilisation and development, education, healthcare, conservation, art and charitable work.
Administered by the FCO, the DS&O List is made up of 94 awards to British citizens or those from a Commonwealth country where HM The Queen is Head of State. The awards recognise outstanding achievements performed overseas, or service with a significant international component which is performed in the UK. UK awards to foreign nationals who have done exceptional work for the UK are not published on the DS&O list.
Some of the award recipients in the Birthday 2012 round are:
Anthony Nightingale
Lately Managing Director, the Jardine Matheson Group, Hong Kong. For services to British business interests in Asia
Anthony Nightingale receives a CMG. Before retiring in March this year, Anthony Nightingale worked tirelessly to promote British business interests in Asia, the world's fastest growing region, leading massive business growth, and also increasing investment in the UK economy, now estimated at £1 billion. The Group's regional business grew nearly three-fold during his time, including through successful joint ventures notably with Balfour Beatty and Standard Chartered Bank. One of Hong Kong's most widely respected business leaders, he has held an impressive range of senior appointments including Chairman of the Hong Kong General Chamber of Commerce, and Chairman of Hong Kong Financial Secretary's Business Facilitation Committee. He has also supervised the Jardine Scholarship Programme which has awarded some 150 scholarships to Oxford and Cambridge for Asian students.
His charitable work has included the role of Chairman of Mindset, raising awareness of mental health issues as well as providing direct assistance such as financing counselling services to school children in Sichuan affected by the 2008 earthquake. Under his leadership Mindset's activities and programmes have grown strongly, including its work to encourage more positive attitudes towards mental health.
On learning of his award Mr Nightingale said: "I am delighted and honoured to receive this award and will continue where possible to assist the development of British interests in this fast growing and dynamic area of the world".
Judith Kerr
Writer and illustrator. For services to children's literature and holocaust education
Judith Kerr receives an OBE. She has made a unique contribution to children's literature worldwide. Judith Kerr is well known for her self-illustrated picture books such as the 'Mog' series and 'The Tiger Who Came to Tea' with over 7 million copies sold worldwide and translated into 20 languages. Her internationally acclaimed work bridges cultures, explaining difficult issues to children and playing a significant part in promoting reconciliation. She has fascinated countless numbers of children with her work whilst making them think about serious issues like discrimination and persecution, such as the story 'When Hitler Stole Pink Rabbit'. Through her books many thousands of children will have become readers for life. Her work has also reached a new audience with the adaptation of 'The Tiger Who Came to Tea' in the West End.
Learning of her award Judith Kerr said: "As a refugee from Hitler, I owe everything to this country, and I am delighted if I am thought to have given something back".
Stan Platt
President, 'Light Into Europe'. For services to the visually impaired in Romania
Stan Platt receives an OBE. Since 1986 he has been promoting and enhancing the UK's reputation throughout Europe through his work with 'Light into Europe' and has made a real difference to the lives of visually impaired people of Romania. He has been instrumental in bringing about a change in attitudes towards disabled people, increasing the awareness of their rights and enabling them to live more independent lives. Stan has introduced British standards, values, know-how and technology in the provision of services and equipment. He has developed the first Guide Dogs for the Blind programme in Romania as well as the breeding programme to provide the next generation of guide dogs.
His wider campaigning efforts have also led to improved accessibility in Europe through European Parliament amendments to the Equal Treatment Directive which seeks to improve accessibility across the EU.
Stan Platt said: "To receive an OBE in The Queen's 'Jubilee year' honours list is indeed a very great honour. It is recognition of the remarkable achievements my team and I have made. I accept this OBE with great pride and renewed determination to meet the needs of our beneficiaries".
Manuel Ruiz
Founding President, Senior Citizens' Association, Gibraltar. For services to the community, particularly to senior citizens, in Gibraltar
Manuel Ruiz is one of two award recipients receiving a British Empire Medal (BEM) newly re-introduced on this list. For more than a decade Manuel Ruiz has shown an unwavering commitment to the welfare of senior citizens in Gibraltar. He has given unstinting support to many charitable projects, including fundraising activities, in support of senior citizens' interests. Bus shelters, pavement ramps, handrails in public places, and better accommodation have all been achieved though Mr Ruiz's personal drive, commitment and tenacity. This has resulted in many improvements not only for senior citizens but also for the community in general and Mr Ruiz shows no signs of slackening the pace of his charitable work.
On learning of his award Mr Ruiz said: "I am truly delighted and honoured to receive this award and I am grateful that the Senior Citizens' Association has also been recognised through my honour as it really is a team effort."
The BEM is being re-introduced on the Birthday 2012 Honours List as part of the celebrations to mark HM The Queen's Diamond Jubilee. The award on the DS&O List recognises exceptional local "hands-on" service to the community performed overseas reflecting credit on the UK.
How to nominate someone for an honour
Did you know that anyone can nominate anyone for a UK honour? Nominations for the DS&O List or for foreign nationals can be made for any person who has made a truly outstanding contribution in promoting British interests overseas.
Published 16 June 2012