Press release
Birmingham Goods Vehicle Test Station (GVTS) to close in 2011
VOSA testing centre to be replaced by privately run Authorised Testing Facilities (ATF).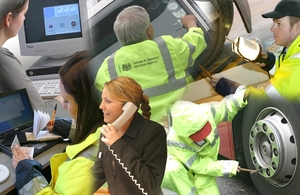 The Birmingham GVTS will close by July 2011 following an announcement by VOSA.
The closure is part of the agency's plan to take the testing of trucks and buses closer to the customer and to deliver testing in the form of Authorised Testing Facilities (ATF).
ATF are sites in the private sector that have suitable facilities to enable VOSA staff to conduct their tests. They are an opportunity for those in the industry to reduce the cost of testing by having it carried out on their own premises.
For workshops that maintain and prepare large vehicles there is an opportunity for a new business and to pick up additional maintenance work.
The 9 month notice period gives sufficient time for ATFs to make all the necessary preparations on their site, thereby making sure there is enough capacity in the local area.
VOSA's Birmingham Area Manager John West said:
Our detailed research in the area has shown that there is strong interest from private companies in providing test facilities alongside their existing repair businesses.

We are working closely with industry to make the transition from our site to theirs as smooth as possible.
Local staff will be involved in planning the future delivery of testing in the Birmingham area and VOSA is also working with customers in the area to support them through the ATF application process.
Notes to editors
Testing Transformation Programme (TTP)
The aim of TTP is to reduce the cost to industry of statutory testing by ensuring that testing is carried out at or near where vehicles are maintained.
VOSA aims to achieve this by delivering testing in the form of ATF - sites in the private sector that use VOSA testing staff. At the same time VOSA will avoid having to invest tens of millions of pounds modernising its own ageing estate which directly impacts the test fee.
For companies that are interested in becoming an ATF as a business opportunity, or for general information about using an ATF, read Set up an Authorised Testing Facility (ATF).
For information about alternative VOSA test stations and non-VOSA sites visit Find your nearest Authorised Testing Facility (ATF) or VOSA test station.
Driving Standards Agency (DSA)
DSA shares the Birmingham site for operational purposes and is fully aware of VOSA's plans. DSA will continue to work closely with VOSA as it reviews its options for continued delivery of services. For more information, please contact the DSA press office on 0115 936 6133.
VOSA
VOSA is responsible for:
processing applications for licences to operate lorries and buses and registering bus services
operating and administering testing schemes for all vehicles, including the supervision of the MOT testing scheme
enforcing the law on vehicles to ensure that they comply with legal standards and regulations
enforcing drivers' hours and licensing requirements
supporting Traffic Commissioners to help them make informed decisions on operator licensing, vocational drivers and bus registration requirements
providing training and advice for commercial operators
investigating vehicle accidents, defects and recalls
VOSA media enquiries
You should contact our press office if you have a media query or you're a journalist.
Published 22 November 2010