News story
Biotechnology and Composites industries get training boost from National Skills Academy
The Academy, which will form part of the National Skills Academy for Process Industries, will receive up to £1.98m of funding over 3 years, …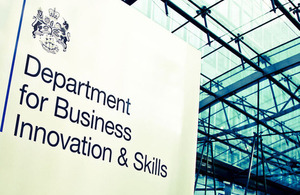 The Academy, which will form part of the National Skills Academy for Process Industries, will receive up to £1.98m of funding over 3 years, matched by employers. It will work with employers, the Life Sciences Advisory Council, the National Composites Centre and specialist training providers to develop new professional standards and training programmes that meet the fast evolving skills needs of these hi-tech industries.
Skills Minister John Hayes said:
"Composites and biotechnology are highly competitive sectors around the world and both are poised for substantial growth. If we want to secure that growth and investment in the UK, it's vital that we can provide a highly skilled workforce. The Academy will bring government agencies, education providers and employers together, delivering world class training to keep Britain on the cutting edge of technological progress."
For **Biotechnology, **a sector with a turnover of over £5bn and a workforce of around 38,000 is expected to grow through increased adoption of biotechnology by many different sectors in the economy such as pharmaceutical production, fuel production, novel plastics and chemicals. Biotechnology will become increasingly important as it may help the UK meet societal challenges of an aging population, improving sustainability and decarbonising our industry and transport sectors. The growth of companies using biotechnology will be supported by the NSA ensuring they are able to develop a skilled workforce through tailored training packages to meet the industry's changing needs.
For Composites, a sector** **with a turnover of around £1.5bn, employing over 40,000 people, with recent annual growth of 15% for carbon fibre composites, the NSA can support growth in low carbon technologies and "light weighting" of major structures such as wind-turbine blades and aircraft wings. The key role of the NSA is to raise the quality of composites training as well as improving the skills of the existing manufacturing workforce with composites-specific skills. This includes working with the Sector Skills Councils to develop and implement new apprenticeship frameworks that will deliver more advanced training.
Notes to Editors
NSAs provide an opportunity for employers to set out and invest in developing an approach which meet the needs of their sector. There are currently 18 National Skills Academies in various stages of development.
15 in operation: Manufacturing; Construction; Financial Services; Food and Drink Manufacturing; Nuclear; Process Industries; Hospitality; Creative and Cultural; Sports and Active Leisure; Retail; Enterprise; Social Care; and Materials, Production and Supply; Information Technology and Telecommunications; and Power.
3 new NSAs are currently in business planning; environmental technologies; railway engineering; and logistics.
The Academy will deliver training through a network of accredited providers. Over three years this is expected to grow to around 30 of the highest quality training providers in the UK. The first of these, City and Islington College, has been confirmed as a Centre of Excellence in Biotechnology for the Academy. Both new units of the Academy are expected to be up and running by the end of the first quarter 2011.

The Life Sciences Advisory Council operates under the stewardship of Cogent, the Sector Skills Council for the process industries.

National Skills Academy Process Industries: www.process.nsacademy.co.uk. Head Office: 5 Pioneer Court, Morton Palms, Darlington DL1 4WD. Tel: 01325 740 900 Fax: 01325 740 901

BIS' online newsroom contains the latest press notices, speeches, as well as video and images for download. It also features an up to date list of BIS press office contacts. See http://www.bis.gov.uk/newsroom for more information.
Notes to Editors
Contact Information
Name BIS Press Office Job Title
Division COI Phone
Fax
Mobile
Email NDS.BIS@coi.gsi.gov.uk
Published 25 January 2011