Bin taxes consigned to the scrapheap
Immediate action to scrap laws introduced by the previous government to tax homeowners for bin collections was confirmed by the Communities …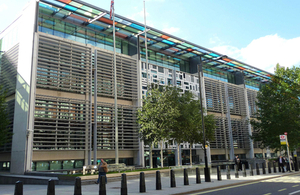 Immediate action to scrap laws introduced by the previous government to tax homeowners for bin collections was confirmed by the Communities Secretary Eric Pickles and Environment Secretary Caroline Spelman.
So-called 'bin tax' schemes would have allowed local councils to charge residents for household rubbish collections or fine families for having a full bin, on top of council tax bills which are at record levels.
Local Government Ministers confirmed that primary legislation this autumn will remove the bin tax laws from the statute books. Meanwhile, Environment Ministers have axed the funding for 'pilot' schemes for the bin taxes. Under the bin tax laws, once a pilot scheme had been introduced, it could be rolled out across the country without a substantive vote in Parliament.
Eric Pickles, Secretary of State for Communities and Local Government, said:
Bin taxes would have harmed the local environment by fuelling fly-tipping and backyard burning. It would have created a new army of municipal bin police and forced families to lock up their bins at night. These taxes are now being consigned to the political scrapheap.
Caroline Spelman, Secretary of State for Environment, Food and Rural Affairs, said:
The new Government wants to make it easier for people to go green and increase their recycling. Rather than punishing struggling families with new taxes and fines, we will be supporting innovative schemes, like those introduced in Windsor and Maidenhead, which reward people for recycling and doing the right thing.
Notes to editors
Communities and Local Government's Structural Reform Plan, published on 8 July 2010, commits the Government to scrapping so-called 'bin tax' schemes by repealing sections 71 to 75 of, and Schedule 5 to the Climate Change Act 2008. This will be achieved through the forthcoming Localism Bill. The full plan can be found at: www.communities.gov.uk/publications/corporate/structuralreformplan.
2. An example of Localism in action: 60,000 households in Windsor and Maidenhead can volunteer to claim up to £135 worth of points a year from over 100 reward partners, at no cost to other residents. The scheme will also mean that less recyclable waste will go to expensive landfill, saving the council money. More details at: www.communities.gov.uk/newsstories/newsroom/1607787.
3. The Environment Secretary is announcing that Defra will not be further considering or supporting any pilot schemes under the bin tax laws.
Twitter
Keep up to date with the Department by following us on Twitter (external link).
Media enquiries
Visit our newsroom contacts page for media enquiry contact details.
Published 19 July 2010