Bill and Melinda Gates visit DFID
Bill and Melinda Gates visited DFID to address staff, as part of a wider trip to the UK to highlight the importance of aid.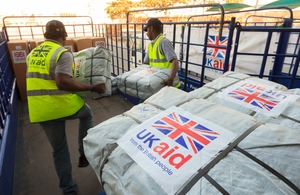 Video: Highlights of speeches at DFID by Bill and Melinda Gates
Speaking ahead of the Gates Foundation's Living Proof project launch with One International, the couple discussed their experience working on vaccines, malaria, education and reproductive health as well as the challenges of innovation, measurement of aid and the foundation's role in developing countries.
On working with DFID and the UK to achieve the Millennium Development Goals, Bill Gates said:
We're all learning as we go. Closer collaboration as we see what works and what doesn't work will be important to us.

And the example that the UK is setting in maintaining the aid budget in a difficult time is one we're hoping other countries will respond in kind to.

It's a bit of a challenge. The success stories are so far away that we have to get better about bringing the news about what is working. That's what we are kicking off this evening.
Melinda Gates said:
I couldn't be more excited about the work that we do together. We're here today to really thank the UK citizens and the UK government for your incredible commitment.
International Development Secretary Andrew Mitchell and DFID Permanent Secretary Nemat Shafik paid tribute to the pair. "Bill and Melinda Gates have been an absolute inspiration to many of us," said Mr Mitchell.
"Their commitment and their deep concern for this great cause in which all of us are involved is truly inspiring."
Find out more about the Living Proof project launch on the Gates Foundation and One International websites.
Published 19 October 2010