World news story
Bilateral Programme Fund 2015/16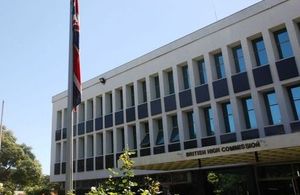 Summary
The Bilateral Fund is small grants provided by the Foreign & Commonwealth Office. The fund is managed by the British High Commission, Lusaka, to provide strategic support to Zambia in priority areas and bilateral links between Zambia and the UK.
The priority areas for 2015/16 for the Bilateral Fund are democratic governance, human rights and prosperity, with a particular focus on projects designed to improve the business environment in Zambia.
This year we have a total of £20,000 to support small projects under the Bilateral Fund Bids not exceeding £15,000 are, therefore, invited from NGOs active in Zambia for projects which will make real impact in the above mentioned thematic areas.
Bidding forms can be downloaded here. Please complete a one page 'Concept Note' first. We are willing to consider proposals that are jointly funded by other donors.
The deadline for your Concept Note to reach us is 10 July 2015. NGOs submitting proposals deemed by the Programme Board to have particular promise will be contacted and encouraged to submit full bids. Full bids need to reach the High Commission by 30 July 2015. Approved projects must be completed by end December 2015.
Selection Criteria
Projects must deliver outcomes relevant to the Programme's targets. Please state upfront what your project seeks to achieve. Projects that clearly demonstrate how they will address or make tangible impact in the target areas will improve their chance of support.
Bids will also be assessed against the following criteria:
•Value for money
•Project impact and sustainability
•Evidence of local demand/need
•Evidence of government buy-in
•Capacity of implementing organisation(s)
•Project design, including clear, achievable objectives/outputs
•Sustainability
•Good risk and stakeholder management
Proposals must be supported by a realistic activity based budget, set out with as much detail as possible. Projects should be realistic in the results they aim to deliver and how these contribute to the long term achievement of the targets.
What projects can be funded?
The two funds are highly competitive. The British High Commission will only consider project proposals that clearly show developmental benefit and are within the British High Commission's priority areas for the financial year. Ideally, the project should be completed within 3 months from the receipt of funds. Preferably suppliers, and not the implementing organisation itself, will be paid directly for goods and services.
The fund cannot support projects/items such as;
•Private businesses or individuals
•Recurrent costs (salaries, rent, utility bills or consumables)
•Donations/loans
•Projects that are purely of a political, military or religious nature
•The Bilateral Fund does not provide computers, sports equipment, or textbooks neither does it fund scholarships/sponsorships.
Application Procedure
Detailed guidelines and application forms are available on this website. You can return your completed application form by email, post or hand to the British High Commission.
An assessment or appraisal visit to suitable projects may be conducted before a decision is made. Please ensure that you have indicated clearly your contact information. Be further advised that completing any of the above stages does not guarantee funding. Please ensure that you do not send us original copies of documents, such as, certificates of registration, permits as we are unable to return any documents that are sent with your application.
Reporting and monitoring
Successful applicants will be required to submit reports once a month (assuming a multi-month project is envisaged) and physical checks may also be made to all on-going projects. A Project Completion Report giving details of how the project was implemented, lessons learned, recommendations and all financial expenditure is expected on completion and before the final payment.
The Bilateral Fund has benefited many organisations, institutions and communities over the years. However, we are unable to assist all eligible projects as the number of applications received far outweighs the funding we have available. Applications are welcomed from established CSOs and other organisations. This scheme is not the only source of assistance given by the British government. We have other funding programmes by the UK government and our bilateral aid programme can also be obtained from the Department for International Development (DFID).
Published 26 June 2015