Bigger venue for 2013 supply chain event
The Nuclear Decommissioning Authority's showcase event for the supply chain is moving to a bigger venue.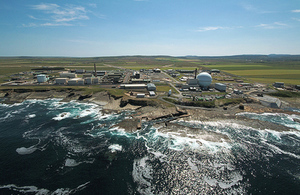 The Nuclear Decommissioning Authority's showcase event for the supply chain is moving to a bigger venue.
Last year's event in Bolton, Lancashire, attracted more than 700 delegates from across the country, including existing supply chain members and those who were new to nuclear decommissioning.
This year's showcase will be at EventCity in Manchester, on Wednesday, November 13. The venue holds up to 1,000 people, including 200 exhibitors.
Launched three years ago, the annual event is organised jointly by the NDA and its site licence companies, including Dounreay, to promote greater visibility of contract opportunities for businesses seeking to work in the UK's decommissioning market and provide an informal networking forum.
Space for the exhibitors will be provided free of charge, with small and medium-size enterprises as the priority. Details of how to apply for exhibition space will be posted later in the year. Entry for delegates to the event will also be free.
Ron Gorham, NDA Head of Supply Chain Optimisation and SME Champion, said: "The feedback from the last event was extremely positive and we will be taking account of the comments received to ensure we tailor the day to meet the aspirations of businesses at all levels of the supply chain, and encourage new suppliers to get involved. We are very conscious that the supply chain is vital to our mission, and we wish to ensure it remains healthy and dynamic."
The Manchester event will feature a series of presentations by senior representatives from the Government, the NDA and SLCs, while exhibition space will be available for existing and potential suppliers at all levels of the supply chain.
The event will also include a presentation ceremony for the winners of the prestigious 2013 supply chain awards, a competition held for the first time last year.
A key aim of the event is to improve access to opportunities for all the supply chain, and particularly for SMEs. This reflects the Government's aspiration for public organisations to provide wider access to their markets for smaller businesses and the NDA's strategy for 2011-2014 which recognises the importance of a robust supply chain.
Last month, the NDA launched an action plan to support small businesses across the estate, following a Government requirement for all departments to develop proposals that will help to increase the proportion of public contracts awarded to the SME community.
The NDA's plan, which applies to SLCs as well as the NDA itself, sets a challenging target of 20% of annual sub-contract spend (both direct and indirect) – at least £300 million – to SMEs by 2015, almost doubling the currently reported level.
For more information on the Supply Chain Event and to register an interest in attending: www.decommsupplyevent.co.uk
Published 1 May 2013