Press release
Big journey savings and safety boost from A590 bypass in Cumbria
Cumbria's newest stretch of road – the A590 High Newton and Low Newton bypass near Grange-over-Sands – has produced major benefits to road users and villagers according to a new report.
This news article was withdrawn on
This press release is no longer current.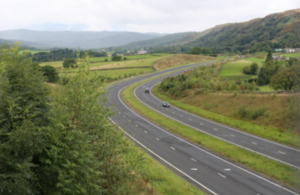 Highways England, the government company responsible for the country's motorways and major A roads, has just published its Post Opening Project Evaluation (POPE) on the two and a half mile, £35 million dual carriageway which opened in April 2008.
And the study – a requirement after a project has been running for 5 years – shows local commuters and other road users have benefited from faster journey times, a massive reduction of traffic clogging up the 2 villages and an 80 percent reduction in collisions, down to just 1 a year from 5.
Three minutes have been shaved off journey times between the roundabouts with the B5277 and Newby Bridge during the morning and evening peak travel periods, with a 2 minute saving outside peak travel times.
The amount of traffic using the old A590 through the villages has also fallen substantially, from 17,900 to 550 each day, with 16,950 vehicles now using the new bypass every day.
Graham Dakin, Construction Programme Manager at Highways England, said:
We are delighted at the performance of the new bypass since it opened in 2008. There has been a massive drop in accidents and commuters and other road users have benefitted from faster and more reliable journey times.

The landscaping of the route is also considered by many people to be an asset to the area, and people living in the villages of High Newton and Low Newton have seen a massive drop in the number of vehicles travelling past their homes.
The bypass, which runs to the west of the old A590 through High and Low Newton villages but also benefits the village of Ayside on the other side, was built by the Highways Agency before it was replaced by Highways England earlier this year.
The full report for the A590 High Newtown and Low Newton bypass has now been published.
General enquiries
Members of the public should contact the Highways England customer contact centre on 0300 123 5000.
Media enquiries
Journalists should contact the Highways England press office on 0844 693 1448 and use the menu to speak to the most appropriate press officer.
Published 23 September 2015