World news story
Big ideas? Get them off the ground in the UK!
If you're a global graduate with a bright business idea, the Sirius Programme can help you make it a reality!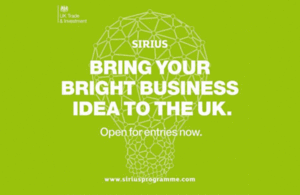 Phase two of the Sirius programme led by the government department, UK Trade & Investment launched on 8 May capitalising on the proven overseas success of the first phase.
More than 700 teams from over 93 countries entered the first year of UK Trade & Investment's Sirius Programme, which invites talented young entrepreneurs with world-class start-up ideas to make the UK their home. Of these applicants, over 40 teams will relocate to the UK by June 2014.
The 12-month Sirius Programme sees the successful teams based around the UK in one of the Sirius Programme Accelerators: Accelerator Academy, London; Entrepreneurial Spark, Glasgow; The Bakery, London; Oxygen Accelerator, Birmingham and Ignite 100, Newcastle-upon-Tyne. These organisations are the backbone of the Programme, as they take the start up teams and nurture and develop them, offering mentoring, workshops and office space. In addition the programme will provide support and help to win customers, get funding and scale the business.
Overall the Sirius winners will be able to take advantage of the UK entrepreneurial ecosystem, a collaborative environment where like-minded entrepreneurs come together and grow. Other advantages of starting up in the UK include access to the number one venture capital market in Europe and to 500 million customers across Europe.
The Sirius Programme aims to attract hundreds of talented entrepreneurs into the UK and support them in making their dreams a reality. The deadline of this application is end of June.
To register your interest in the Sirius Programme visit www.siriusprogramme.com or follow @SiriusProgramme on Twitter.
Published 6 June 2014